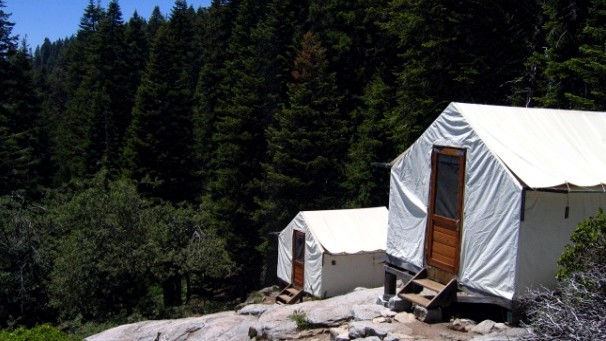 LIMITED SPACE: Every hotel and lodge and inn and campsite on the planet is finite, meaning certain places can get booked during certain peak times of the year. Think of a resort next to the Coachella Music & Art Festival or a New York hotel near the Macy's Thanksgiving Day Parade. Then there are those places that have two unique qualities that limit their availability. One? They're only open part of the year. And two? Beds are very few, as compared to a larger stay-the-night spot. A prime examples is Bearpaw High Sierra Camp, the sequoias-close camp that is both near the big trees and the High Sierra Trail. It is not open in winter, as you might expect, but its reservations do open in winter, famously. Well, famously among those who love the camp and the sequoias; they know that the half dozen tent cabins soon fill up after the phone lines open. And that date is...
WEDNESDAY, JAN. 2: Bearpaw booking for the summer season comes a skip after New Year's Day, which is easy to remember. And it will again in 2013. We mentioned the six tent cabins above, but let's also give a shout about the beds -- they've got comfy blankets and sheets and such. So while you'll be in a pretty rustic and remote local you won't fully be "roughing it." Also, breakfast and dinner is included in the daily rate, and meals are "generous" and "home-style." The "generous" part is good to note, given that many a hiker makes Bearpaw her base camp for taking on the meadows and hills of the area.
It's a true California experience, refined camping in the Sierra, but if you can't wait for summer, and need your big trees sooner, the Wuksachi Lodge stays open all winter long. Snow chains are usually a requisite, though, for getting up the mountain in the colder months.
Copyright FREEL - NBC Local Media