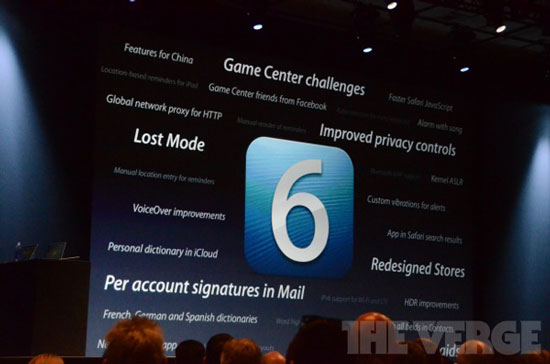 An iOS by any other name is not iOS 6 -- at least that's how Apple sold it last week at the new iPhone 5 announcement. And it's available right now.
The new features include, notably, a new maps system that removes the reliance on Google maps. Because map usage is so high on handhelds -- and since geolocation can lead to hyper-targeted ads and revenue -- a new map app was crucial, moving forward.
It's a 3D rendering, too, which may mean the new iOS is a heavy file. Users with the smaller versions of the iPhone may have storage issues if they simply must have six Dr. Who episodes on their iPhones (looking in your direction here, Woz). We'll see...
Some other features to highlight:
Facebook: Given the user base of Facebook (read: everyone), having the interface baked deep into the iOS just makes sense. Elegant, streamlined sense for users.
Aforementioned Maps: The biggies here are Siri integration, turn-by-turn navigation, vector-based graphics (quicker) and a business info card.
Passbook: A scannable virtual bundle that will no doubt ease itself into our lives -- and directly compete with Google Wallet. Credit card accounts, airplane boarding passes, gift cards, etc, will all be right there on that new, bigger screen (if you upgrade iPhones).
Pics and Camera: Holy wow, panoramas! This will take Instagram and Camera+ to whole new levels.
Siri Improvements: Siri graduated from suck level to learn sports scores, restaurant ratings (via Yelp) and reservations. Other reviews still think one's articulation will be an issue, but less so than before.
Facetime 3G: Video calls via cell signal. Finally! Thjs is a pocket full of awesome -- except if you're with AT&T (sorry).
Some other improves are mostly pretty interfaces:
Sharing Menu: Icons instead of a list
Modern iPod / iTunes / App stores: No more music app. It's just slicker looking with same functionality.
New Emoticons: Yay, or :)
Visual Voicemail Rejections: It's easier than ever to just NOT take that incoming call.
Let us know what you think in the Comments section below.