What to Know
In the last century, government agencies sometimes demanded developers refuse to sell homes to Black Americans as part of funding agreements.
Distribution of disability payments favored white veterans for decades.
Segregationist rules placed many educational institutions out of reach for Black veterans of those wars.
When Lawrence Brooks turned 110, the cupcakes at the National World War II Museum in New Orleans were festooned with tiny American flags. Lipstick on his cheek showed where one of the Victory Belles, a trio that performs 1940s tunes, had given him a kiss. And when the national anthem was played, he stood before his wheelchair and saluted.
But if Brooks was fêted by the museum, the same was not true of the Department of Veterans Affairs. Like many other African-American veterans, Brooks did not receive benefits under the GI Bill that sent millions of white veterans to college or helped them to buy homes or businesses. He got only his U.S. Army pension.
Today, 75 years after the U.S. military was desegregated, the country is grappling with how to right a wrong that lifted many more white veterans into the middle class while exacerbating the wealth gap with which Black Americans still struggle.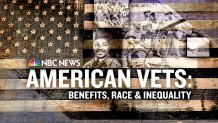 The issue already has become a political fight.
One approach, the GI Bill Restoration Act, would award those lost benefits to the descendants of Black veterans. It was introduced in Congress in 2021 but with a price tag of $70 billion as estimated by one of its sponsors, Democratic Rep. Seth Moulton of Massachusetts, it faltered.
Another of its sponsors, Democratic Rep. James Clyburn of South Carolina, has vowed to reintroduce it to honor veterans who fought for American freedoms, but he doubts the bill will pass in the newly Republican controlled House.
In the meantime, he is supporting a compromise that might have a better chance of passing. It would make home loans available to descendants of all veterans, regardless of race, who did not receive them. And rather than education benefits paid by the federal government, it would provide no-money-down, low-interest home loans backed by the Department of Veterans Affairs.
"These were the people who made sacrifices to guarantee these freedoms," Clyburn said. "And they ought to be treated fair."
The new Republican chairman of the House Committee on Veterans Affairs, Rep. Mike Bost of Illinois, said the committee would review any legislation that attempted to right the Department of Veterans Affairs' discriminatory practices.
"The past discrimination experienced by World War II veterans at VA – or any veteran – is deplorable and does not represent the words of President Lincoln that are enshrined on VA's walls, 'to care for him who shall have borne the battle and for his widow and his orphan,'" he said in a statement.
Another approach, playing out in the federal courts, would try to hold the Department of Veterans Affairs accountable for discrimination against Black veterans. That is the basis of a lawsuit filed in November by Yale Law School's Veterans Legal Services Clinic on behalf of Conley F. Monk Jr., a Vietnam War veteran.
"The negligence of VA leadership, and their failure to train, supervise, monitor, and instruct agency officials to take steps to identify and correct racial disparities, led to systematic benefits obstruction for Black veterans," the complaint says.
The Oldest World War II Veteran
When Brooks died last year at the age of 112, he was the oldest known living U.S. veteran. One of 15 children, he was raised in Norwood, Louisiana, a village about 40 miles north of Baton Rouge, according to his obituary. He was drafted into the U.S. Army when he was 31, and spent the war in the mostly African American 91st Engineer Battalion in Australia, New Guinea and the Philippines. A private 1st class, he cleaned and cooked for three of the battalion's white officers.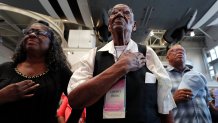 Back in Louisiana after the war, he worked as a forklift operator and retired when he was in his 70s. He married, had children, grandchildren, great-grandchildren and even a great-great-grandchild.
But one dream remained elusive, his daughter Vanessa Brooks told NBC. He had always wanted to return to school and learn a trade, something he hoped his military service would make possible. It didn't.
"Because it wasn't offered to him, because we lived in the South and we were under the Jim Crow law," Vanessa Brooks said.
The Department of Veterans Affairs says Lawrence Brooks never applied for education benefits under the original GI Bill of 1944.
Historians say those government records are not always reliable indicators. Chad Williams, a professor of history and African and African American studies at Brandeis University, said that some Black veterans reported that their paperwork disappeared or that they simply never heard back from what was then the Veterans Administration.
Nor was the Department of Veterans Affairs able to find any information in its records for a home loan to Brooks, it said.
Vanessa Brooks — who grew up with her mother and stepfather after her parents separated but began living with her father again in 2009 — says he was unable to read or write. But she wonders whether being able to complete an application would have made any difference.
Few GI Benefits, Segregated Housing
Discrimination against Black veterans especially in the South was systemic, according to Richard Rothstein, a former New York Times education columnist who wrote "The Color of Law: A Forgotten History of How Our Government Segregated America." U.S. Rep. John Rankin of Mississippi, the chairman of the committee that drafted the original GI Bill, made sure that the funds were distributed at the local level.
"In practice, African Americans have very, very little opportunity to use the GI benefits that the GI Bill provided throughout the South," he said. "In the North, it was somewhat better, although in the North even, there were many, many colleges and universities that would not admit African Americans."
According to the Department of Veterans Affairs, veterans accounted for 49% of college admissions in 1947, the peak year for the original GI Bill. By the time it ended in 1956, 7.8 million of 16 million World War II veterans had taken part in an education or training program. In addition from 1944 to 1952, the VA backed nearly 2.4 million home loans for World War II veterans.
But the experience of the more than 1 million Black men who served in World War II, who technically were eligible for the same benefits, was markedly different. Only 6% of African American veterans of World War II earned a college degree compared to 19% of white veterans, according to the GI Bill Restoration Act. Counselors channeled Black applicants to industrial and vocational schools.
Colleges and universities in the South were segregated, limiting their choices to about 100 public and private schools, according to a 2002 working paper from the National Bureau of Economic Research, "Closing the Gap or Widening the Divide: The Effects of the GI Bill and World War II on the Educational Outcomes of Black Americans." The historically black colleges in the South were small, underfunded and ill-prepared for the returning veterans. More than a quarter were junior colleges and few offered an education beyond a bachelor's degree.
It was even difficult for African Americans to attend vocational schools, Rothstein said. Most employers would not employ them to do skilled work so they accepted the most menial jobs.
Discrimination through housing in the post World War II period also was egregious, Rothstein said. Developers building homes in the suburbs, for example Levittown on New York's Long Island, begun in1947, could not get bank loans without guarantees from the Federal Housing Administration and the Veterans Administration, he said. And both administrations enforced a racially explicit requirement, spelled out in a Federal Housing Administration manual: no sales to African Americans. The manual even forbade loan guarantees for white developments near where African Americans lived because that would run the risk of "infiltration by inharmonious racial groups."
"The Federal Housing Administration and Veterans Administration in an entirely unconstitutional fashion imposed segregation on the housing market throughout the country, North and South, East and West," Rothstein said. "And that's why we have metropolitan areas that are so segregated today."
In a statement the Department of Veterans Affairs said it was working to ensure that Black veterans received the VA services that they had earned and deserved.
"Throughout history, there have been unacceptable disparities in both VA benefits decisions and military discharge status due to racism, which have wrongly left Black Veterans without access to VA care and benefits," it said.
A Pension of $91 a Month
For Lawrence Brooks that meant that he received only his pension, which was $91 a month in 2009. Though eligible for GI Bill benefits, he was a poor Black man in the South with a limited education. It was only after his daughter Vanessa Brooks questioned the amount that it jumped to $788 a month in 2014, according to the Department of Veterans Affairs.
Its records show that Brooks first submitted a claim for his pension in 1975, when he was awarded $69.23 a month. The amount varied each year due to a variety of factors -- his income, dependency status and cost of living adjustments -- until 2014, it said. That's when he elected instead to receive what is called an "improved pension" and made a claim for "aid and attendance" benefits for help with daily living. Then in 2019, he added unreimbursed medical expenses, which resulted in further increases.
In the last years of his life, his payment went from $1,482 in 2019 to $2,050 at the end of 2021, a week before his death.
The department did not provide a breakdown for increases before 2014.
The Department of Veterans Affairs says it is now reaching out to Black veterans to ensure they know what benefits they are entitled to and is providing one-on-one assistance to help them apply. It also is studying racial disparities in benefits claims decision, which it says will be published when available.
The Benefits They Were Never Told About
It was difficult for many veterans to apply for VA benefit programs, if they didn't know they existed. San Diego Marine Corps veteran Robert Lewis says he's spoken with many fellow Vietnam veterans who experience that problem.
"When you talk to them, they tell you same story," Lewis said. "Nobody told me anything, just gave my discharge papers and bye."
Lewis told us he had to fight to learn about many G.I. Bill programs. It helped him pay for education benefits, first going to barber school and then later on, nursing school. But he told us that wasn't the normal experience for fellow veterans.
"They had a lot of despair," Lewis said. "They didn't know anything. And my heart told me, 'They got ripped off.'"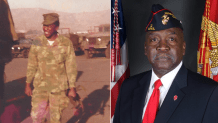 Lewis is the San Diego Chapter President of the Montford Point Marines, a nationwide group dedicated to helping African-American veterans get the support they need. The group was founded and named after the first Black troops to enlist in the Marine Corps in 1941 at Camp Montford Point in Jacksonville, NC. Michael Johnson is the National Western Region Vice President.
"We are Americans, Johnson said. "We are patriots. We are veterans and we did the exact same job as our counterparts…And then after all of the sacrifice in the service, many were denied the same benefits. It seems like it's a bitter pill to swallow and we know that, but we're such a proud group of men that no matter what you do, we're still gonna serve as far as we're concerned."
A New Era of Benefits Denied
Conley F. Monk Jr. spent his service in Vietnam driving troops and supplies through fierce fighting in the Demilitarized Zone or DMZ. His truck was shot through and he watched a fellow Marine run over a Vietnamese man who had jumped in front of their vehicle. The second Marine was unsure whether the man was an attacker.
Memories of the grisly death haunted Monk, according to his lawsuit.
He was pulled out of Vietnam and sent to Okinawa, where he got into two fights. Sent to the base prison, he was told he would stay there until he agreed to an undesirable discharge and so signed the discharge papers.
He said he was angry at the VA, suffering from severe nightmares, and so traumatized he dove to the ground whenever a car backfired. He sought help but his discharge status hindered him, he said.
"You couldn't even join a veterans organization," he said. "You couldn't get any services from the VA."
But his lawsuit, filed in U.S. District Court in Connecticut, says that a veteran who receives an undesirable discharge may be eligible for VA benefits. Once a veteran such as Monk applies, the VA must conduct an assessment that takes into account military records and other evidence, the lawsuit says.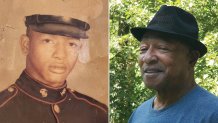 Monk was later diagnosed with PTSD, and the lawsuit alleges that he was denied benefits improperly for nearly 50 years. It was not until 2020 that the VA confirmed that he was eligible for education, housing and disability compensation as a result of injury suffered during his military service.
Monk's legal team obtained records from the Department of Veterans Affairs in response to Freedom of Information litigation that show the VA denied Black veterans disability compensation at statistically higher rates than their white counterparts. Between 2001 to 2020, the average denial rate for disability compensation was 29.5% for Black veterans and 24.2% for white veterans, a statistically significant difference, according to his legal team.
"Should Mr. Monk prevail, not only will this victory provide justice for him, but it could provide a legal pathway for the thousands of Black veterans like him who have suffered because of the VA's discriminatory actions," the lawsuit says.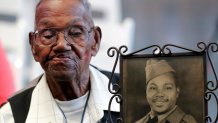 Vanessa Brooks is happy that her father was so celebrated at the end of his life. The National World War II Museum had hosted birthday parties for him since 2014. When the coronavirus pandemic began, the party came to him, with a car and Jeep parade, the Victory Belles singing troupe, a military flyover and a New Orleans jazz band.
But she said that Congress must compensate families like hers, veterans like her father who did not apply for benefits he was eligible for, whose lives could have been changed had they received them.
When she was girl, her father was angry, she said. He did not want to talk much, but sat in a chair and watched the news on television.
"Now, I see why he always watched the news," she said. "I guess he was hoping that something would change in this situation. But it never did."
Statement from VA Press Secretary Terrence Hayes
"Secretary McDonough has made clear that delivering world-class, timely, equitable care and benefits to all Veterans is our top priority at VA. Throughout history, there have been unacceptable disparities in both VA benefits decisions and military discharge status due to racism, which have wrongly left Black Veterans without access to VA care and benefits. We are actively working to right these wrongs, and we will stop at nothing to ensure that all Black Veterans get the VA services they have earned and deserve.
"We are currently studying racial disparities in benefits claims decisions, and we will publish the results of that study as soon as they are available – but we are not waiting on the results of the study to take action. VA's Center for Minority Veterans has begun to participate in Veteran Experience Action Centers across the country, providing Black Veterans with one-on-one, personalized assistance to help them through the claims process from start to finish. Between April and June of 2022 (the latest months for which we have data), VA helped more than 650 Black Veterans at these events, garnering an approximately 80% trust score – and we plan to help many more Veterans moving forward.
"Additionally, we are taking steps to ensure that our claims process combats institutional racism, rather than perpetuating it; re-evaluating our policies to equitably serve Veterans who were wrongly given Other Than Honorable discharges; and proactively reaching out to Veterans with Other Than Honorable discharges to make sure they know that they may be able to access VA benefits and health care."
Additional Background: More information on VA's plans to deliver world-class, timely, equitable care and benefits to all Veterans can be found in the Equity Action Plan. Additionally, when Veterans with Other Than Honorable discharges apply for VA benefits, we review their records to determine if we can provide them with care or benefits. Over the past 3 years, VA's eligibility determination rate for Veterans with Other Than Honorable discharges has been above 72% -- meaning that 72% of those Veterans were granted access to benefits and/or healthcare. In FY 2022, VBA processed 3,790 Character of Discharge decisions for Black, non-Hispanic Veterans who received an Other Than Honorable (OTH) discharge. More than 74% (2,818) of those Veterans were granted access to benefits and/or healthcare.
This article was reported by Lucy Bustamante at NBC Philadelphia, Kyle Jones and Katherine Loy at NBC Connecticut, Tracee Wilkins and Rick Yarborough at NBC Washington, Bigad Shaban and Michael Bott at NBC Bay Area, and Mark Mullen and Mike Dorfman at NBC San Diego. It was written by Noreen O'Donnell.