Misty Copeland, the first black female principal dancer for the American Ballet Theatre, now has her very own Barbie doll.
The doll is a part of the Barbie "Sheroes" program, which creates dolls in the likeness of women "who inspire girls by breaking boundaries and expanding possibilities for women everywhere," according to Barbie manufacturer Mattel.
Copeland, who joined ABT in 2001 and was promoted to principal dancer in 2015, was intimately involved with the design of the doll.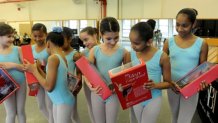 "I always dreamed of becoming an ABT ballerina and through Barbie I was able to play out those dreams early on," Copeland said in a statement. "It's an honor to be able to inspire the next generation of kids with my very own Barbie doll."
The fashions for the doll were inspired by Copeland's Firebird costume from her first ABT principal role. She will be reprising that role on May 18 and 19 as part of the company's spring season at the Metropolitan Opera House.
[NATL] Top Entertainment Photos: Best of the American Music Awards, and More
"Misty Copeland is at the center of a cultural conversation around how women continue to break boundaries," said Lisa McKnight, general manager and senior vice president at Barbie. "As a brand, we want to honor women, like Misty, who are inspiring women to live out their dreams."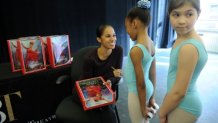 Copeland joins other Barbie "Sheroes" like Ava DuVernay, Emmy Rossum, Eva Chen, and Trisha Yearwood, among others.
"The Accidental Feminist" author M.G. Lord has said the Barbie doll was "the most potent icon of American popular culture in the late twentieth century."
The dolls have gone through constant adjustments and iterations to keep up with contemporary views.
The Copeland doll will join an expanded Barbie offering that now includes tall, curvy and petite body types, 22 different eye colors and seven different skin tones. There are also versions of Barbie as an entrepreneur, reflecting the growing number of women in that role.
Mattel said the Copeland Barbie will retail for $29.95 and is available for purchase now.