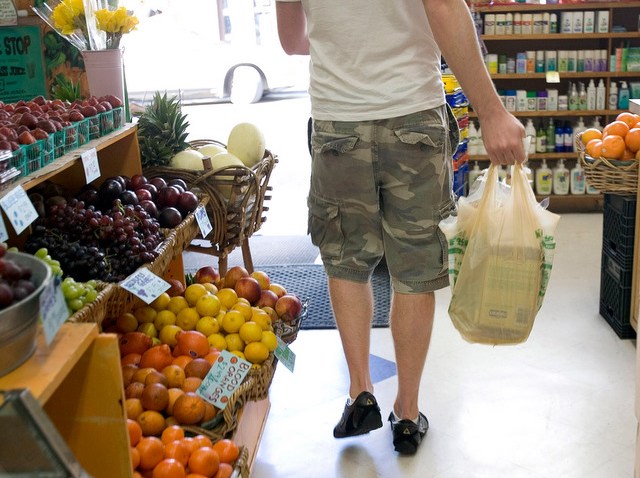 Paper or plastic? California legislators are poised to make that question as relevant as the "regular or unleaded" query. The Assembly has already blessed a bill that would make California the first state in the nation to ban the use of plastic bags, and the Senate could vote on it any minute now.
Editor's Note: Late Tuesday, lawmakers rejected the bill seeking to ban plastic shopping bags.
As far as the Governor is concerned, his signature on the bill is considered, well, in the bag.

California leads the nation in the effort to reduce greenhouse gas emissions and make the environment cleaner. Just take a look at the controversial Assembly Bill 32. It's California's definitive charge on protecting the environment.

Three years ago San Francisco passed a law aimed at reducing plastic bag consumption. Palo Alto and Santa Clara county have since followed suit and it looks like San Jose may be next. Assemblywoman Julia Brownley (D-Santa Monica) authored the bill which would make California the first state to ban plastic bags at grocery, drug, and some other stores.

According to California officials, people in the state use 19 billion plastic bags each year. Ironically that breaks down to 1 bag for every dollar the state is in debt. That's a lot of bags. They also claim it costs the state $25 million to get all those bags to the landfill.
Despite a nearly complete lack of Republican support, Schwarzenegger seems likely to sign the bill into law if it gets as far as his desk. He's big on the environment with his support of AB32 and this is likely to appeal to him.

Opponents of the bill include the American Chemistry Council. It includes plastic manufacturers like Exxon Mobile, Dow and Chevron. Tim Shestek is a member of the council which has also retained four powerful lobbying firms who will fight hard against AB 1998.

Peter M. Grande is another dissenting voice. He's the president of a plastic bag manufacturing plant in L.A. County. He cites that at his factory alone, 200 people would lose good paying jobs immediately. So is he pro business and anti-environment?

Los Angeles County estimates that 85 percent of consumers would switch to paper bags instead of those re-usable "green" bags. Grande points out that the reason stores and consumers switched to plastic bags in the first place was to reduce the use of paper bags. The paper ones leave a heavier footprint, cause the destruction of trees and result in three times the greenhouse emissions of plastic bags.

Environmental issues always seem to raise controversy in AB 1998 is no exception. I'm all for helping the environment and I'm fine taking reusable bags to the grocery store. But what am I going to use to pick up after my dog?

Let us know what you think. Comment below, send us your thoughts via Twitter @PropZero or add your comment to our Facebook page.