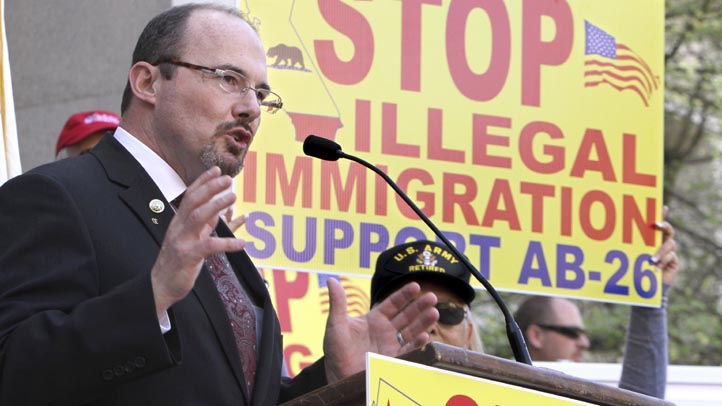 California lawmakers returned to Sacramento for the New Year on Wednesday facing a range of incendiary issues, including a projected $13 billion deficit, pension reform, and whether to fund high-speed rail.
But things must be even tougher than we thought. The Legislature's return was dominated by talk of a loaded handgun, found by authorities in the briefcase of Assemblyman Tim Donnelly, R-Twin Peaks.
Donnelly, an outspoken opponent of gun control, told Capitol reporters he had received death threats because of his opposition to AB131, the Dream Act, which allows undocumented students access to public financial aid. Because of that, Donnelly said, he put his loaded .45 caliber pistol into his bag and forgot about it.
It was, Donnelly said, an "unfortunate mistake."
Airport security found the weapon at a checkpoint at Ontario International Airport as Donnelly attempted to board a flight to Sacramento.
It's the second time in less than a year that pistol-packing lawmakers have generated controversy and headlines. Last spring, four other members of the Assembly were briefly granted permission to bring guns into the Capitol. Permission for the four, Democrat Tony Mendoza and Republicans Allan Mansoor, Shannon Grove and David Valadao, was later revoked by the Speaker's Office after the issue became public.
The issue is believed to have arisen, in part, due to security issues that followed the 2011 shootings in Tucson that killed six and left Rep. Gabrielle Giffords seriously wounded.
Donnelly, who opposed a law passed last year banning the open carrying of unloaded handguns, is now facing misdemeanor charges.
When lawmakers talk about taking aim at the state's problems, this isn't what they had in mind.
Let us know what you think. Comment below, send us your thoughts via Twitter @PropZero or add your comment to our Facebook page.