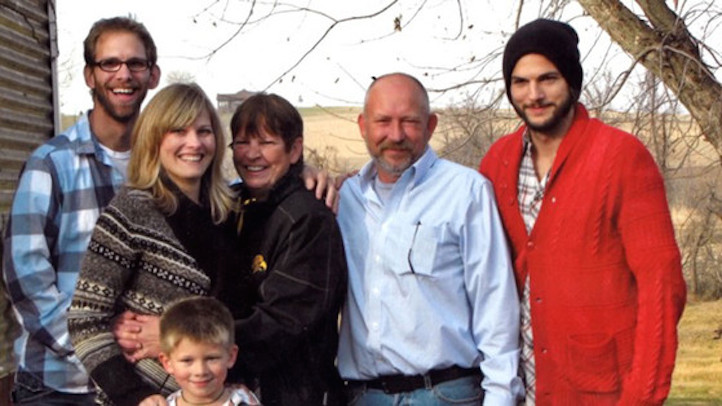 Ashton Kutcher is a mama's boy–and he's not afraid to show it.
The 37-year-old actor recently renovated his childhood home in Iowa as a surprise for his mom, Diane, in honor of Mother's Day, calling the project a "lifelong dream" as a means to say thank you to his mother for being such a wonderful parent.
Kutcher teamed up with Houzz, an online design site in which he's currently an investor, to participate in a video series documenting the remodel.
"It's my way of saying thank you to my mom," Mila Kunis' man shares. "My mom has been the greatest influence in my life–my parents gave me everything. They went to great sacrifices to give me the life that I have and anything I can do to say thank you is the right thing.
PHOTO: Mila and Ashton hold hands during romantic outing
Kutcher continues, noting how he and stepdad Mark built the house "from scratch" when he was just 13 years old–"about 23 years ago."
"The one thing that has eternally bonded my stepdad and I is that my stepdad loves my Mom as much as I do," he says. "When you're the oldest son, and your parents have gone through a divorce. You're always mis-trustful of any other guy, but Mark stepped in and a lot of ways was there for me in ways my Dad couldn't be there for me. I'm one of those people in this world who's lucky enough to have two Dad's. I'm just a blessed person to have that much love in my life."
The "Two and a Half Men" star adds that he wants the remodel to reflect "how my parents live now" and "how they're going to be living with grandkids running around."
PHOTO: Ashton and Mila attend Stagecoach together
After 27 days, Ashton was ready to unveil the new space for his mother, and her reaction was absolutely priceless.
"Oh my god, what on Earth" she exclaims with tears in her eyes as she sees the bunk beds built for her grandkids, including Kutcher and Kunis' baby daughter Wyatt.
"Being able to do this for my Mom it's like a lifelong dream," Kutcher shares. "You know you grow up and you have a good parent, and I don't know that there's anything I could ever do that really says thank you, but trying sure feels good."
Copyright E! Online