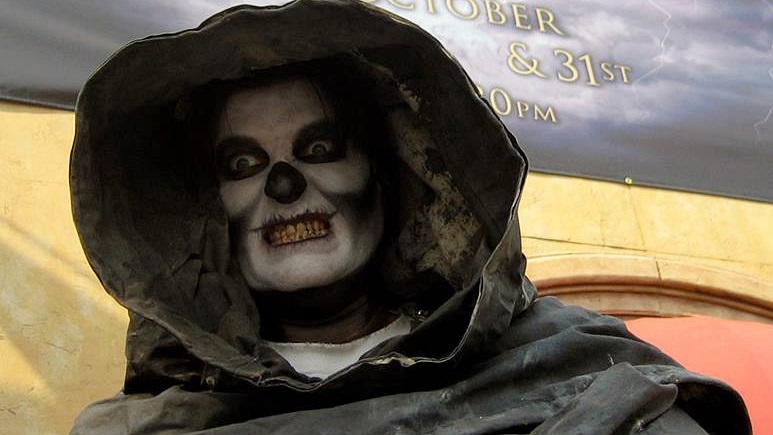 MACABRE MASTERS: What's been around for eight decades and is known around the planet for not moving a muscle or budging an inch? It's the Pageant of the Masters, of course, Laguna Beach's summertime "real people pose inside well-known paintings" extravaganza. We're generally careful about trucking out the word "beloved," but the July- and August-nighttime pageant is firmly ensconced in beloved territory, judging by its always healthy word-of-mouth, robust ticket sales, and appearances in popular culture. (Hello, "Arrested Development.") But, as you may know, July and August comprise only a sixth of the year, meaning that hardcore Pageant buffs are left of out in the cold -- or left out of the (Irvine) Bowl, rather -- for a good chunk of time. There is an exception, though, it is seasonal, it is kid-sweet, it is a little macabre, and it only runs a few nights ahead of Halloween: It's Pageant of the Monsters.
ART WITH A SIDE OF EEK: Nope, the Pageant of the Monsters isn't staged like its lavish summertime cousin, but it does have an offbeat twist, as all good Halloween events should. You get to head backstage, which has been "transformed into a haunted house full of eerie vignettes and spooktacular surprises." That's pretty nifty. Fortune tellers, an alien autopsy, tunes, and "art activities" will round out your visit, a visit that is indeed a-ok for the tots. (So this isn't a grown-up, thrill-laden, scare-tastic haunted house, note.) Call it a gentler, artsier way to approach the hauntiest Halloween with smaller culture fans in tow. Your smaller culture fans should be 5 and over, note.
And the dreadful dates? Friday, Oct. 25 through Sunday, Oct. 27 and Halloween night itself. See you in Laguna Beach, Pageant-loving ghouls.
Copyright FREEL - NBC Local Media