Maj. General Chris Donahue of the Army's 82nd Airborne Division was the last soldier to leave Afghanistan, officials said Monday, ending America's longest war and marking the end of a massive airlift in which tens of thousands of people fled Afghanistan, fearful of the return of Taliban rule after the militants took over most of the country and rolled into the capital earlier this month. 
U.S. Central Command released a picture of Donahue preparing to board the final military C-17 cargo plane to leave Hamid Karzai International Airport in Kabul.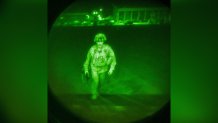 Marine Gen. Frank McKenzie, the head of U.S. Central Command, told reporters in a virtual briefing that with the 3:29 pm ET departure of the C-17, "every single U.S. service member is now out of Afghanistan."
For more on this story, go to NBC News.