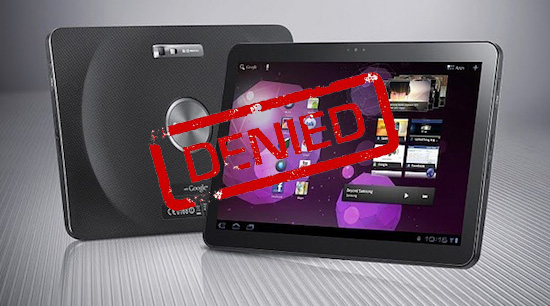 Things aren't looking very good for Samsung. A German court upped the design lawsuit stakes by permanently banning it from selling its Galaxy Tab 10.1 tablet in Germany, calling its design too similar to Apple's iPad. Get ready for oval tablets.
Previously, Apple was only granted a preliminary injunction on the sale of Samsung's Galaxy Tab 10.1 in the EU. That was temporary and is still in effect, but the new ban is permanent and it's for Germany only — for now.
It was unearthed that Apple is planning to pull the same tricks on Samsung in Japan, in the hopes of banning the new Galaxy tab 7.7. It was already banned from Germany and pulled off the IFA show floors, the day after its big unveil.
Steamy? No, the situation between Samsung and Apple over design infringements is already a red hot blaze.
According Bloomberg's recount of Judge Johanna Brueckner-Hofmann ruling, the ban didn't actually compare a real Tab 10.1 with an iPad:

Samsung's tablet didn't keep enough distance from the Apple design, the judge said. While the back of the Galaxy is different from Apple's registered design, the important feature is the front, which is nearly identical, she said.

"The crucial issue was whether the Galaxy tablet looked like the drawings registered as a design right," she said. "Also, our case had nothing to do with trademarks or patents for technology."
Of course, Samsung's not having any of it and expects to appeal it, saying it "restricts design innovation and progress in the industry." Indeed it does. Hopefully its 2001: A Spacey Odyssey "evidence" holds up in U.S. courts.
Fight, fight, fight! Ultimately, a loss like this is bad for the entire tablet industry, because if Samsung's Galaxy Tab 10.1's likeness is too similar to the iPad, that means the rest every other company's tablets are too — from a frontal perspective.
Maybe it is time to consider new tablet form factors, just to you know, be on the safe side.
Bloomberg via PCWorld and AppleInsider
Copyright DVICE - DVICE