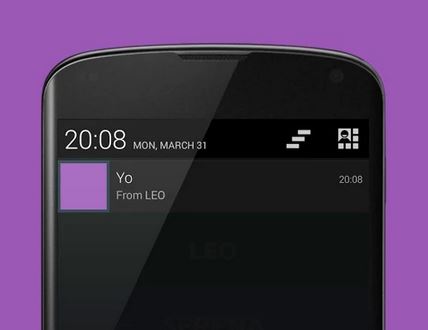 All the application does is send push notifications to people stating, "Yo." That's it. There's no photo-sharing, no messaging, no video playback and certainly no gaming. Yet Yo, which reportedly took only eight hours to create, has raised $1 million from its backers and caused many to question Silicon Valley's possible tech bubble, according to reports.
How could any app that just sends a simple word be worth more than $1 million, or even a few hundred bucks? The startup's developer and founder, Or Arbel, says that "Yo" can mean many things to many people, according to ThinkProgress.
"You usually understand what the Yo means based on who you get it from and when you get it," he said. "The way it affects your life is profound."
Part of the blame goes to techie Robert Scoble who allegedly called the "stupidest but most addicting app," which we suppose is high praise. It debuted on April 1, but if it was an April Fool's prank, it still got 50,000 users who sent 4 million Yo's. It's success apparently made Arbel move from his native Israel to San Francisco.
Arbel says that it takes two taps to send a "Yo" which makes it simpler than a message or photo share and possibly more addictive.
The seed money was arranged by one person, the chief executive of an Israel photo-sharing network called Mobil -- and Arbel's former employer -- who managed to find investors for the app he used to summon his personal assistant.
Arbel sees Yo as having serious commercial appeal, especially at Starbucks, where baristas could use it instead of shouting names.
"We do have some users who don't get it and think it's a joke," Arbel told ThinkProgress, but he said they soon come to love it.
Arbel is attempting to publicize his startup but it seems more like a joke than anything that could change someone's life for the better.
Is this an example of the tech bubble? What else could you call it when an ephemeral photo-sharing and messaging app is worth $16 billion, and an app that simply sends the message "Yo" is worth millions?