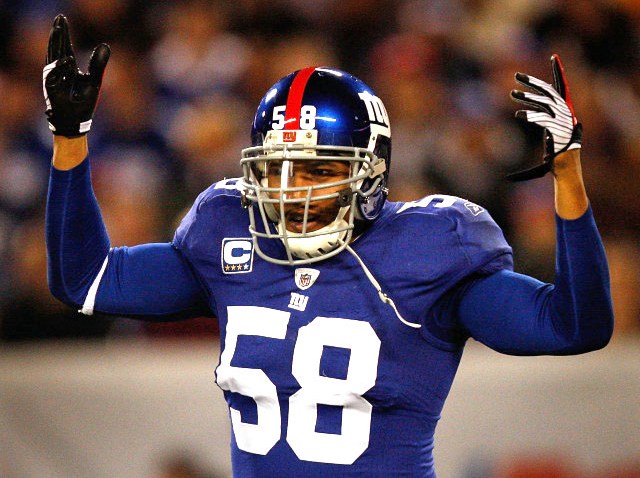 The Giants placed Antonio Pierce on injured reserve Monday, which means that the middle linebacker won't be back before the end of the 2009 season. The news isn't surprising, the news on Pierce's neck injury hasn't been good since it was revealed, but it's a good time to discuss a creeping theme to the Giants' decline over the last six games.
There's been a lot of people complaining about the Giants coaching staff during the losing spell. The oft-repeated refrain is that this is the same team that was so good for the last two years, plus promising rookies and some free agent defensive talent, so it has to be the coaching that's letting the team down. That's faulty reasoning, and not just because of injuries that have cost the team Ahmad Bradshaw, Kenny Phillips and Pierce.
It's faulty reasoning because it doesn't pay any attention to the effects of time on a football team. It doesn't take into account the inevitable toll that game after game takes on bodies and it ignores the increasingly obvious fact that several Giants veterans are closer to the end of the line than they are to the heights of Super Bowl XLII.
Pierce is a perfect example. His play has steadily declined over the last two years as age and nagging injuries have eroded his speed to the point that he wasn't doing the team a ton of good even before his neck injury forced him from the lineup. You can see the same thing happening to players like Kareem McKenzie, Fred Robbins and Rich Seubert, and, quite frankly, there's nothing the Giants can do about it at this point in the season.
In a way, Pierce's injury can be seen as a wakeup call for the Giants that they can't just sit back and continue to stick with players simply because they were part of the team that won the Super Bowl against the Patriots. They started that process with their wide receivers this offseason, but it's going to be an offseason full of tough decisions about bringing back old warriors like Pierce. He's got one year left on his deal, but he might not have another year of usefulness to the Giants defense. That sounds harsh, but that doesn't mean it's not true.
It's a tough call, but that's the business the Giants have chosen.
Josh Alper is a writer living in New York City and is a contributor to FanHouse.com and ProFootballTalk.com in addition to his duties for NBCNewYork.com.
Copyright FREEL - NBC Local Media