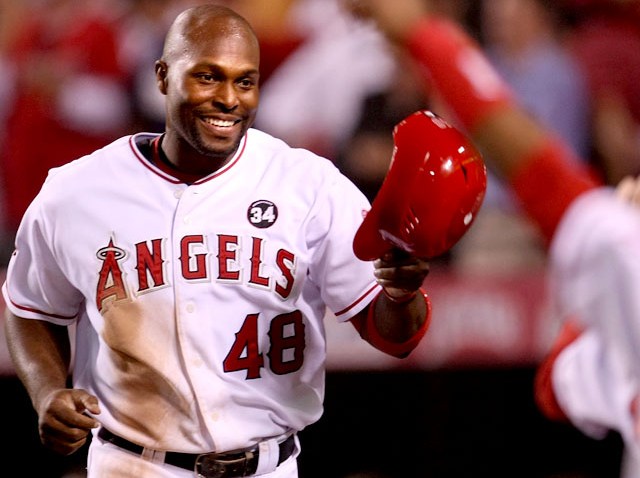 These Angels have heart.

A lot of teams would have folded after having the lead through six innings and giving up one big, ugly inning. That came with the guillotine of trailing 3-1 in the series over their heads.

But these Angels do not give up. They scored three runs in the bottom of what was a wild seventh inning and went on to win gave five 7-6. That makes the series 3-2 and it heads back to New York for a game Saturday.

This was a must-win game for Los Angeles and you could tell, the Angels came out swinging on the Yankee's $82 million man AJ Burnett. To start the game, Chone Figgins walked, Bobby Abreu doubled, Torii Hunter singled, Vladimir Guerrero doubled, Kendry Morales singled. The Angels were ahead 4-0 before the Yankees had an out. After that Burnett settled down, but it seemed the damage was done.

Especially with John Lackey looking like the ace he is for the Angels. He had scattered five hits through the first six innings and the Yankees were 0-5 with runners in scoring position against him. They never really seemed to threaten.

Then came a roller coaster seventh. First it was New York's turn. With one out Melky Cabrera doubled, Jorge Posada walked on a borderline pitch, then Derek Jeter walked on four pitches, and it seemed like Lackey may have reached the end (he was over 100 pitches on the night). But Mike Scioscia stuck with him against Johnny Damon and was rewarded with a fly out to shallow left that did not allow Cabrera to tag up and score.

Then, over Lackey's objections, Scioscia decided that was enough and put in the Angels most reliable guy out of the bullpen, Darren Oliver. Who was not so reliable — on his first pitch gave up a bases-clearing double to Mark Teixeira, and the lead was just one. They intentionally walked Alex Rodriguez, then Oliver gave up a single to Hideki Matsui that scored Teixeira, and the game was tied. So out went Oliver and in came Kevin Jepsen, who pitched well earlier in the series, but his third pitch was a two-run triple by Robinson Cano.

It was 6-4 New York, and they were singing in Manhattan.

But these Angels never quit. In the bottom of the seventh they got a single from catcher Jeff Mathis, then a walk to Eric Aybar, then a groundout from Abreu that allowed Mathis to score and make it a one-run game. Then back-to-back singles by Gurrero and Morales drove in two more runs, and the Angels had their 7-6 lead.

The Angles had to make it interesting one more time, letting the Yankees load the bases in the bottom of the ninth, but Brian Fuentes was able to fight off the Nick Swisher for a pop-up to Aybar at short.

The last time the Yankees were in the American League Championship Series it was 2004. The Yankees led the Red Sox that time three games to none but the Angels came back for the dramatic series win. That team had heart.

The Angels have a ways to go before the Yankees start thinking about that series. One more win in New York on Saturday ought to do it.
Copyright FREEL - NBC Local Media