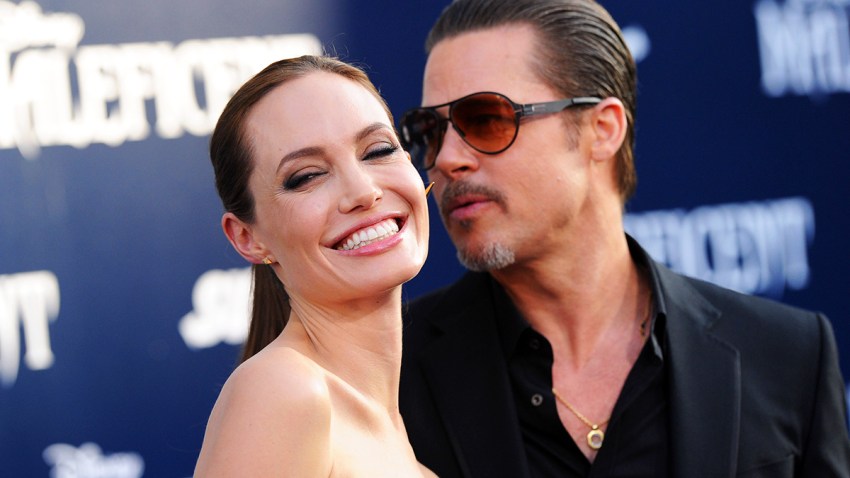 Angelina Jolie and Brad Pitt were married Saturday in Correns, France, a spokesman for the couple said, The Associated Press reported.
Jolie, 39, and Pitt, 50, tied the knot in a small chapel in a private ceremony attended by family and friends, according to the AP. Their six children participated in the wedding.
Jolie walked the aisle with her eldest sons Maddox and Pax. Zahara and Vivienne threw petals. Shiloh and Knox served as ring bearers, the spokesman told the AP.
The wedding comes after years of speculation on when the couple would officially tie the knot. Both had publicly said that they planned to but also insisted that they wouldn't marry unless the nation's laws allowed all couples to marry.
In the early days of her career, Jolie was known as much for her wild ways as for her work onscreen. In recent years she made the transition from hedonist to humanitarian by speaking publicly about pressing global issues and through her work as a special envoy on refugee issues for the United Nations.
Jolie surprised fans and industry insiders when she announced in early 2013 that she had a preventive double mastectomy after learning she carried a gene the made it extremely likely she would get breast cancer. She made the announcement in the form of an op-ed she authored for the New York Times under the headline "My Medical Choice," and revealed she had completed three months of surgical procedures to remove both breasts.
The "Tomb Raider" actress wrote the she made the choice with thoughts of her six children after watching her own mother, actress Marcheline Bertrand, die too young from cancer. Bertrand died in January 2007.
She also wrote that Pitt was at the Pink Lotus Breast Center in Southern California for "every minute of the surgeries."
Advocates for same-sex marriage, Pitt and Jolie publicly stated they would not wed until all couples were granted the same rights. But pressure from their six children to see their parents walk down the aisle eventually swayed the couple and they announced their engagement in 2012.
"I am getting more pressure from my kids, and it is something I want to do within their lifetime, but I also feel like the time has come," Pitt told People in November 2012. "We've had a family, we've raised the kids," Pitt added. "I am surprised how much [marriage] meant to me once you had that."
The newlyweds became involved after they appeared together in the big screen spy caper "Mr. & Mrs. Smith" in 2005. Pitt had previously dated his "Seven" co-star Gwyneth Paltrow from 1994 to 1997. He was famously married to "Friends" star Jennifer Aniston.
Pitt and Aniston met in 1998 and were married in a much publicized ceremony in Malibu in 2000. They announced their decision to split in January 2005, with Aniston filing for divorce two months later citing "irreconcilable differences."
Jolie, the daughter of Hollywood star Jon Voight, was awarded the best supporting actress Academy Award for her role in "Girl, Interrupted." This is her third marriage. She was married to her "Hackers" co-star Jonny Lee Miller from 1996 to 1999. Jolie wore black rubber pants and white T-shirt to her nuptials with Miller.
After a two month courtship, Jolie married actor Billy Bob Thornton in 2000 in Las Vegas, Nevada. They met on the set of "Pushing Tin." Jolie and Thornton announced the adoption of a son from Cambodia in March 2002, but separated three moths later. Their divorce was finalized in 2003.