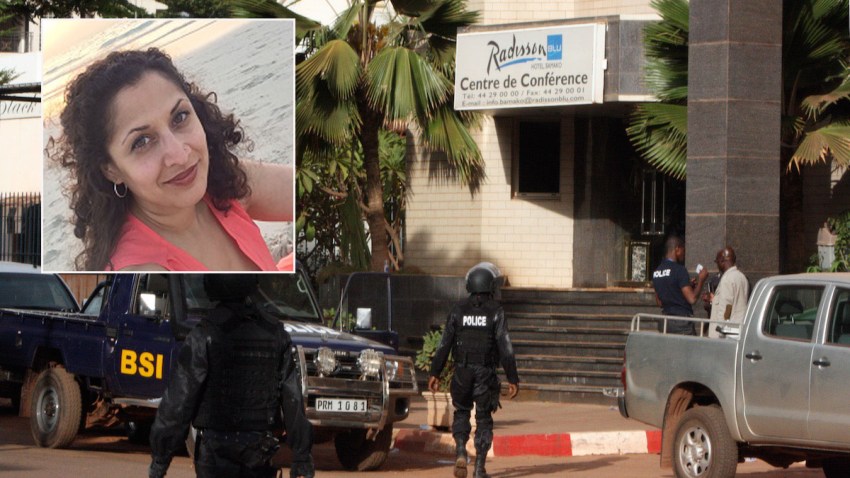 As a Peace Corps volunteer, expert in global health and the mother of a young boy, Anita Ashok Datar devoted her life to caring for and helping others, her family said.
Datar, of Takoma Park, Maryland, was one of at least 20 people killed in Friday's terror attack on a hotel in Mali, the State Department confirmed in a statement.
No other U.S. citizens were believed to have died in the attack, carried out by heavily armed militants at a Radisson hotel in the Malian capital of Bamako. An al Quaeda-affiliated terrorist group claimed responsibility for the attack, Reuters reported.
"We are devastated that Anita is gone," her family said in a statement issued through the State Department. "It's unbelievable to us that she has been killed in this senseless act of violence and terrorism."
Datar, 41, was a senior manager at Palladium Group, an international development organization with offices in Washington, her family said. As a public health expert, she focused on family planning and HIV issues, work that took her to Africa often in the past 15 years. She also worked in Asia and South America, according to her LinkedIn profile.
"Everything she did in her life she did to help others — as a mother, public health expert, daughter, sister and friend," the family statement said. "And while we are angry and saddened that she has been killed, we know that she would want to promote education and healthcare to prevent violence and poverty at home and abroad, not intolerance."
The family said that of all her accomplishments, Datar was "most proud of her son." Her Facebook page is filled with pictures of the boy.
Born in Massachusetts, Datar grew up in New Jersey and graduated from Rutgers, her family said. She worked in Senegal with the Peace Corps for more than two years and earned master's degrees in public health and public administration from Columbia.
"We are devastated that Anita is gone — it's unbelievable to us that she has been killed in this senseless act of violence and terrorism," Datar's brother, Sanjeev Datar, said in a statement. "Anita was one of the kindest and most generous people we know. She loved her family and her work tremendously."
In addition to her son, parents and a brother, she is survived by "many, many friends around the world," the statement said.
In a statement, Maryland Senator Barbara Mikulski expressed her "deepest condolences to Ms. Datar's family and loved ones, in particular her son."
"Ms. Datar dedicated her life to improving the conditions of others all around the world. Her humanitarian service stands in stark contrast to dark actions of the attackers who perpetrated this senseless violence. Ms. Datar embodied and displayed the best of American values," the statement read.
President Barack Obama, speaking in Kuala Lumpur Saturday local time, said the government was still working to account for Americans who may have been staying at the hotel, NBC News reported. He extended the condolences of the American people to the loved ones of the victims.
"Like the heinous attacks we saw in Paris, and attacks we see all too often elsewhere, this is another awful reminder that the scourge of terrorism threatens so many of our nations," Obama said. " This barbarity only stiffens our resolve to meet this challenge,"
Copyright AP - Associated Press