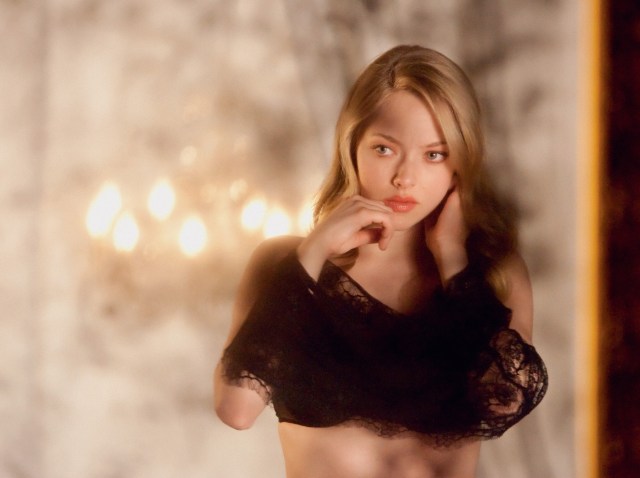 We might know her as the wide-eyed, song-filled daughter in "Mama Mia" and the guitar-strumming girlfriend in "Dear John," but America is about to get an eyeful of Amanda Seyfried.
Seyfried gives a haunting and often chilling performance as the title character in Atom Egoyan's "Chloe," opening March 26. It's a story of betrayal, obsession and voyeurism with an unblinking Seyfried in the center of the storm. And there's a fair amount of nudity.
Besides Seyfried's stunning portrayal as a callgirl hired by a jealous wife (Julianne Moore) to entrap her seemingly cheating husband (Liam Neeson) - we also see a lot more of Seyfried than ever before in a handful of drawn out sex scenes.
"I definitely think that people can take me more seriously," says Seyfried, speaking from the "Chloe" press day. "It's a more serious movie."
Seyfried says that if her celebrated director wanted nudity, it was clearly important for the movie. "I trusted Atom (Egoyan)," she says. "I said nudity, fine. Of course. It's Chloe. It was totally necessary to me. "
She did negotiate some changes to the sex scenes, one notable scene with Moore in particular. "Before I signed on we had a lot of negotiations of nudity and how much was going to be shown," she says, adding. "We brought it to a little bit less (nudity). It was just because Americans would see it. It's tougher in this country."
Nonetheless the scene with Moore in particular is long and explicit. "We went for it," says Seyfried, explaining the scene was vital for the story.
The role will add to Seyfried's credibility as an actress in Hollywood. It's clear in this movie that she has the acting chops. In fact her Chloe is hard to shake from the mind. But she insists that middle-America will accept her back on the wholesome path she was blazing so effectively in her past multiplex friendly films.
"The younger audiences cannot see 'Chloe,' " says Seyfried. " I think they'll go right along with me to my next romantic, sweet movie… which happens to be coming out soon as well."