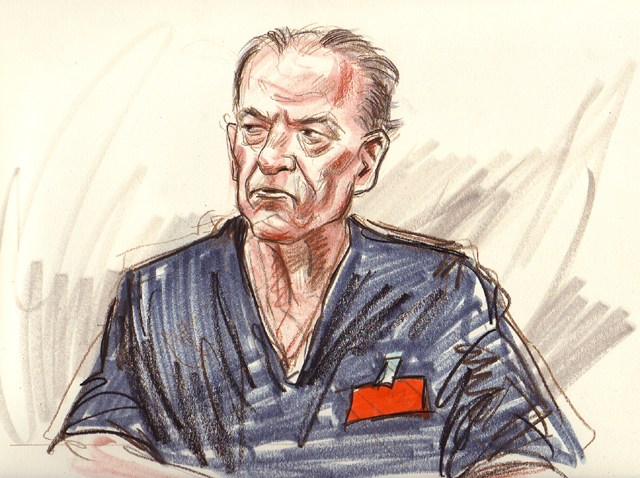 A white supremacist who was shot in the face after allegedly killing a security guard at the Holocaust Museum shouted during his first court appearance that he is "sworn to protect" his country.
James von Brunn appeared in public for the first time since the June shooting while making the appearance in U.S. District Court in Washington, and he made sure his voice was heard.
"Your honor!" von Brunn said from a wheelchair while the topic of a psychological exam was being discussed in the courtroom.
The judge advised the 89-year-old suspected shooter not to speak, but von Brunn blurted out, "Your constitution guarantees me a speedy and fair trial."
He also said, "As a United States citizen and a Naval officer, I am sworn to protect my country. I take my vows very seriously."
Von Brunn has been hospitalized since the June 10 shooting, when he was shot by security guards. His attorney told the Associated Press that he was struck once near the right ear, but the wound has since healed. He was finally well enough to make this court appearance after several postponements.
Von Brunn appeared to be wearing medical bracelets. Although he had no visible wounds or bandages, the injuries make it difficult for him to hear and speak, his attorney said. He wore navy a D.C. jail uniform and looked mostly at his lap, leaning over at times to speak with his lawyer.
The judge agreed with prosecutors that von Brunn is still a danger to the community because he has "no true friends" and "nothing to lose," so he will remain in detention. In asking that von Brunn not be released, prosecutor Nicole Waid said von Brunn's actions were clear on videotape.
"This isn't a case of whodunit, your honor," Waid said.
Waid said that von Brunn arranged his finances and funeral plans before his "suicide mission" at the museum, and that he wanted to kill as many people as possible.
He shook his head when Waid recounted how he had once tried to kidnap members of the Federal Reserve board. He was caught outside a board meeting carrying a bag stuffed with weapons. He describes his attempt with apparent pride on his Web site. He was sentenced in 1983 to more than four years in prison for attempted armed kidnapping and other charges in his Fed assault. He was released in 1989.
Public records show that in 2004 and 2005 he lived briefly in Hayden Lake, Idaho, which for years was home to the Aryan Nations, a racist group run by neo-Nazi Richard Butler. He had a racist, anti-Semitic Web site and wrote a book titled "Kill the Best Gentiles," alleging a Jewish conspiracy "to destroy the white gene pool." He also claimed the Holocaust was a hoax.
The judge said von Brunn will be sent to a North Carolina facility to undergo a mental competency evaluation. The judge scheduled a competency hearing for Oct. 14.
Von Brunn was indicted in July on seven counts, including first-degree murder, for the death of museum guard Stephen T. Johns. Four of the charges make him eligible for the death penalty if he's convicted.
Copyright AP - Associated Press