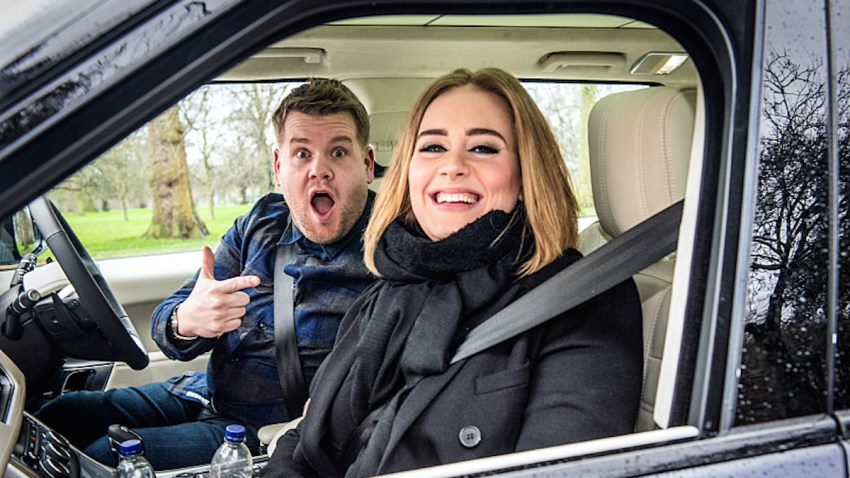 After days of anticipation, James Corden's Carpool Karaoke segment with Adele is finally here.
The Brit late-night show host drove around with the one and only Grammy winner, and it's safe to say that the two hit it off right away.
Adele and Corden wasted no time in getting down to business, with pitch-perfect duets of one of her most famous tracks from the past like "Rolling in the Deep," followed by her current chart-topping ballad, "Hello."
And as usually tends to happen with Corden's Carpool Karaoke segment, the "Late Late Show" host's chemistry with his musical guest (and passenger) is absolutely undeniable.
During a preview clip from earlier this week, the 27-year-old chatted about her newly chopped locks. Corden admitted he's "loving" the new look, reassuring a hesitant Adele after her big hairdo change.
Adele turns to the comedian and explains that she's contemplating wearing a weave for an appearance the next day, to which Corden replied, "What I like is that you're coming to me for this advice."
The two immediately burst into laughter before going right back into singing tracks as they cruise around London.
"It's such a shame that it's running because I think Americans are going to assume that England is rubbish," Adele told Corden before launching into "Hello."
READ: James Corden's Best Carpool Karaoke Moments of 2015
The two also bonded over their mutual love of The Spice Girls and Adele's heartbreak after Geri Halliwell quit the band in the late '90s. "That was the first time I was, like, truly heartbroken," Adele explained before covering "Wannabe" with Corden.
Corden had also heard that Adele is a skilled rapper, so he put her skills to the test as she recited Nicki Minaj's lines from "Monster."
Before the ride ended, the two had a few laughs talking about EGOT possibilities, being "THE Adele," and remixing "Rolling in the Deep."
But don't take our word for it; check out the video of these two above and enjoy.
Copyright E! Online