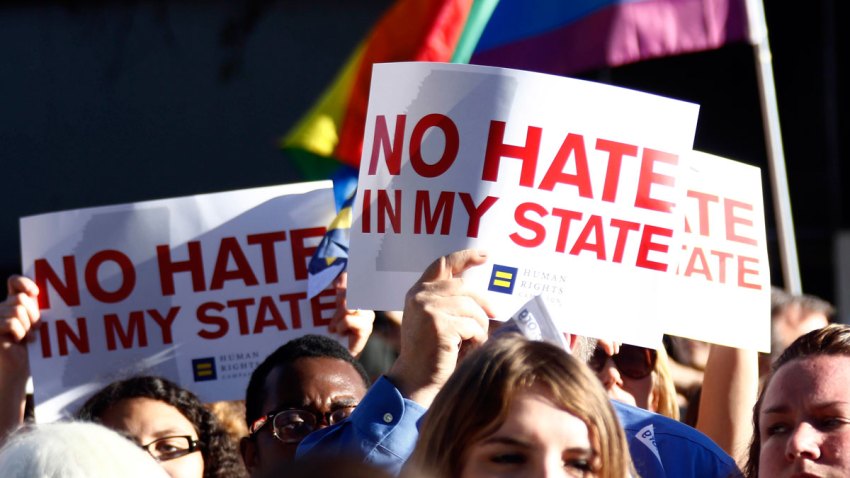 The American Civil Liberties Union of Mississippi and a gay couple are suing the state over a law that will allow workers to cite their own religious objections to same-sex marriage to deny services to people.
"We've had a long history in Mississippi of bigotry and discrimination, and House Bill 1523 brings that back to life," Oliver Diaz, a former state Supreme Court justice who filed the lawsuit Monday in U.S. District Court in Jackson.
House Bill 1523, passed by the Republican-majority Legislature and signed by GOP Gov. Phil Bryant, is set to become law July 1.
It was filed in response to last summer's Supreme Court ruling that effectively legalized same-sex marriage nationwide.
Supporters say the law will protect people's religious belief that marriage should only be between a man and a woman. Opponents say it violates the equal-protection guarantee of the Constitution.
The men who filed suit, Nykolas Alford and Stephen Thomas, are both 26. They live in the eastern Mississippi city of Meridian and have been engaged since 2014. They said they hope to marry in Mississippi.
"Our grandparents experienced discrimination for being black, and my parents probably did as well," Alford said. "My parents were born in the '60s and grew up in the '70s and '80s, and so it's always been a part of our lives. We thought this movement was over, you know? We thought that we would be fine. We thought that we would be equal, and here we are today saying that we're not, and we want equality."
Spokesmen for the governor's office and the attorney general's office did not immediately respond to requests for comment about the lawsuit.
Copyright AP - Associated Press