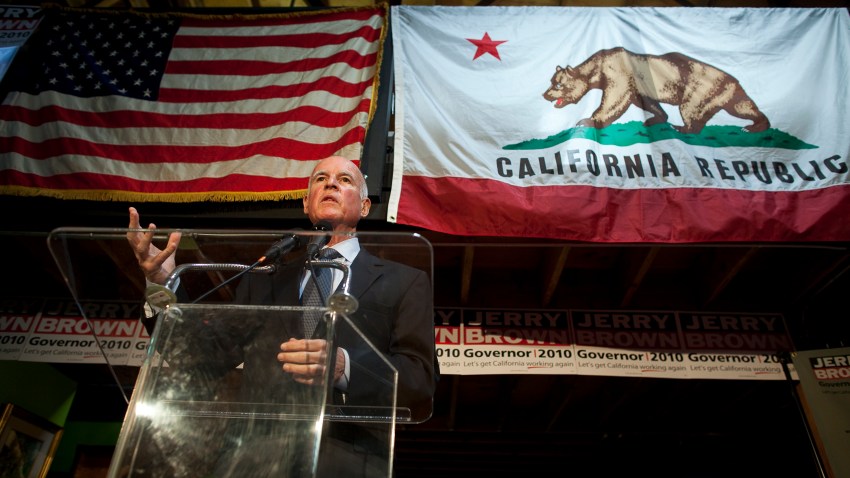 The chance to talk about clean energy and green jobs has lured Gov. Jerry Brown out of state for the first time since he returned to the governorship in January.
Brown is spending the day in Las Vegas, along with Vice-President Joe Biden and U.S. Energy Secretary Steven Chu, at the National Clean Energy Summit. Brown's been talking about nurturing green jobs since his campaign last year.
Although he traveled frequently during his first tenure as governor in the late '70s, when he nurtured national ambitions, Brown has passed on several trips this time around. He turned down, for example, the National Governor's Association meeting in Washington.
It's a contrast not only with his previous record, but with that of his predecessor, Arnold Schwarzenegger. Only five months after he took office, Schwarzenegger took a high-profile overseas trip to Israel, meeting with Prime Minister Ariel Sharon, talking jobs with Israeli business leaders, and attending a groundbreaking for a Museum of Tolerance in Jerusalem.
Brown shows little interest in such adventures. He told me, during a campaign debate at UC Davis last fall, that his wandering days were over. The result, he joked, of advanced age...and of grounding provided by his marriage to Anne Gust Brown.
Brown's frequent travels during his first terms as governor also gave rise to some political mischief. Republican Mike Curb, then the lieutenant-governor, took advantage of Brown's absence to take some executive actions, including appointing a judge.
It brought ridicule on Curb. A good cautionary note for current Lieutenant-Governor Gavin Newsom, who is in his first day as acting governor.
Let us know what you think. Comment below, send us your thoughts via Twitter @PropZero or add your comment to our Facebook page.