It was a rude awakening for some, and a long night for others, after an early-morning attack that left parts of police headquarters riddled with bullets and eventually ended with the suspect being shot.
Anita Grendahl was asleep in her seventh-floor apartment across from police headquarters when she heard gunshots loud enough to wake her up over a white noise machine in her room.
"We just woke up to a few pops and thought somebody was on my balcony, and then looked outside and saw the van crash into the car," she said.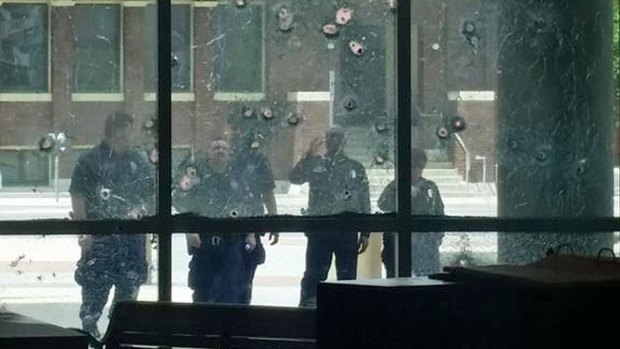 Incredible Photos from Dallas Police Headquarters Attack
The threat of explosions forced dozens of people from their homes, bars and hotel rooms early Saturday morning.
People who live across the street from Dallas Police Headquarters work up in the middle of the night to gunshots.
"And then gunshots started going again and that's when I ducked," said Kevin Johnson.
Many watched the scene unfold from the top of the South Side on Lamar apartment complex.
By 4 a.m., apartment residents were told they had to evacuate and get as far away as possible from the bomb threat.
Two pipe bombs exploded within an hour and a half of those evacuations.
Some chose to leave the area. "I was just worried about the children, so I just wanted to get out of harms way," said Nicholas Laird.
Others waited for the 'all clear.' Edward Vasquez went to work at 3 p.m. on Friday and wasn't allowed to go home until Saturday morning.
"You wouldn't think anything like this would happen here since it is the headquarters and there are police everywhere," he said.
NBC 5 viewer Rick Birt shared video of Dallas police K9 units sweeping the South Side on Lamar building before he was allowed to return to his fifth floor apartment.
At around 10 a.m. police allowed people to return home, public transportation also resumed in the area.