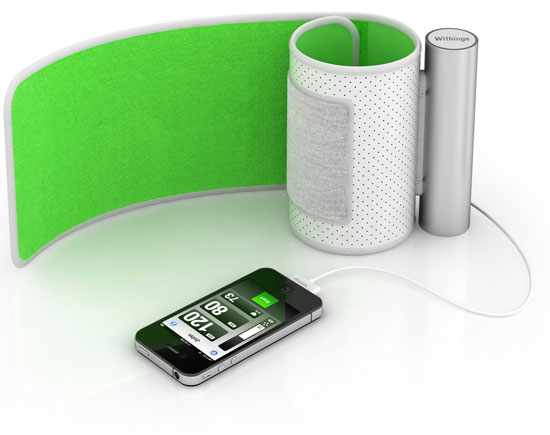 DVICE guest blogger Alan Danzis is helping us plug a hole here, writing about fitness tech as someone who uses it and loves it. There's a lot of not-so-expensive, smart gadgets and apps out there that not only help you keep track of how well you're living healthy, but talk to one another for even more functionality.
Last year, I started to finally get serious about living a healthier life because of my genetically high blood pressure. Seriously, high blood pressure at 29 and now at 30? I'm a gadget person at heart, and I found that if I invested in gadgets to control and monitor my health, it would help keep me on track. If I spent X amount of money on this pedometer, for instance, odds were, I would keep using it.
Below are what I think are the eight best apps and gadgets to help you lead a healthier life. I own and/or use most of them regularly; the rest are ones I'm either currently researching or am very, very close to purchasing (at least within their category).
Click on any image below to see it larger.
---
1. Wi-Fi Body Scale
The Withings Body Scale is probably one of the most expensive scales you can buy — with good reason. It connects to your local Wi-Fi network and, after your weighing, automatically uploads your weight, BMI, lean mass and fat mass to a Web dashboard interface, as well as the free Withings App available on iTunes and the Android Marketplace. You can also make that data available to a number of other sites and apps such as Runkeeper, Health Month (more on those two below) and others, or, for the brave, have it emailed it to your doctor.
The Withings Body is scale is perfect for those looking to maintain weight loss, or for people like me who want to make sure they're actually losing fat and not lean mass if they're losing some LBs. It's also great for families since multiple people can use the scale and it knows who's using it when.
Price: $159
---
2. Smartphone/Tablet Blood Pressure Monitor
While we're talking about Withings, the company's Blood Pressure Monitor only became available in the U.S. last month, and it does just what its name implies: plug it into your iPad, iPhone or iPod Touch and take your blood pressure. It integrates seamlessly with the Withings App that the Withings Body Scale also uses. You can send your data directly to your doctor or publish it (confidentially) on the Web.
As I mentioned above, I have genetically high blood pressure and had been wanting to buy this since it was announced in January — I bought it the day it came out. It's great for someone like me who wants to monitor their blood pressure on a daily or weekly basis and don't feel like reaching for the paper and pencil — plus, whenever I see my primary care doctor, I can just hand him my iPad when he asks how much my blood pressure is.
Price: $129
---
3. Runkeeper App
Runkeeper is a mobile app for your iPhone or Android that uses your GPS signal to accurately track your fitness activities. Originally, as the name implies, it was for running, but you can also use it at the gym (e.g. when you're on an elliptical machine), when you go swimming (though you may want a waterproof case) or anything else. It integrates seamlessly and cross-shares data with Fitbit (highlighted below), the Withings Body Scale and others. My brother, for instance, uses Runkeeper to track all his health-related data.
For running junkies or even newbie runners like me who want to accurate track calories burned, distance ran and average speed, Runkeeper is a must download app — especially since it's free!
Price: Free!
---
4. Lark "Silent" Alarm Clock
Lark is billed as the first silent un-alarm clock — patent pending. Like other devices such as the Fitbit, it allows you to track your sleep via something you wear on your body with a built-in accelerometer (in this case, it's a wristband) and tells you the next day how long you were sleep, how many times you woke up, how long it took you to fall asleep, etc. Using that data analysis, you can hopefully improve your sleeping habits. Where Lark differs from other products, it also silently wakes you up by vibrating the wristband — perfect if you hate waking up significant others early in the morning.
I've used my Fitbit to track my sleep and have found I don't really care about the data — I already know how many times a night I wake up. What I have been fascinated with is finding a device that will also wake me up without using a traditional loud alarm (I need a loud alartm to wake me up). I considered the Lark, but ultimately went with a WakeMate which apparently wakes you up by monitoring how close to awakeness you are by your movements.
Price: $129
---
5. Health Month
Many companies are banking their existence or desire to grow their user base by adding gamification elements to their app or product — in other words, making it seem like the idea of using their app or product feel more like a game. My favorite health related one is called Health Month. Before each month begins, you pick a set of rules you want to follow — drink less than two cups of a coffee day; run eight miles a week; eat only 2,000 calories; etc. Every morning, you get an email from Health Month that asks you to fill in whether or not you followed you rules.
Sure, you could lie, but you're only working against yourself. I haven't ̬ yet. I originally signed up only to get the Foursquare related badges for making it an entire month without screwing up — you get 10 life points; you lose a life point each time you fail to do a rule outside of its parameters. But now that I've gotten all the Foursquare badges, I found myself paying the $5 a month to use Health Month — you need to pay $5 a month if you want to use more than 3 rules a month. I simply like the act of getting yelled at every morning to follow rules that I really want to follow health-wise.
Price: $5 a month
---
6. A Smarter Pedometer
There's a lot of pedometers out there for you to choose; and certainly, your smartphone is capable of acting like one. The reason I like the Fitbit however — and have had two freak-outs the time I thought I left them in a car — is because I don't have to write down my steps in a spreadsheet to track them (it wirelessly transmits them to the online dashboard through a receiver I plug into my computer) and it integrates nicely with other applications I use like Health Month, Runkeeper, etc.
I wear my Fitbit every morning when I get out of bed, and I take it off just before I go to sleep — I stopped using it for sleep monitoring purposes. I'm in a constant state of stress because it's so small and I'm always terrified I'm going to lose it, but at the end of the day, I really don't want to go anywhere without my Fitbit.
Price: $100
---
7. Polar Wearlink+ Heart Rate Monitor
I do run, but not long enough distances that heart rate monitoring is something I need to worry about; but for close friends of mine, it is something they need to do on a regular basis. After some research, it seems the WearLink+ transmitter is your best bet. It works with the Android Runkeeper app and enables it to record your heart rate data to better understand how hard your heart is working in any given workout. Easy to wear on your wrist because the Bluetooth transmission integrates well with your phone, you can be sure your phone is monitoring your heart rate and not the cute girl running next to you.
As I begin to run more and more miles, I may find I'm in the need for a great heart rate monitor. For right now, I just take my phone for Runkeeper purposes and Fitbit out when I go. But if you need a heart rate monitor, this one looks like it will be a good fit.
Price: $70
---
8. Jawbone UP Food Monitor
This last product isn't even out in the market yet, but it looked intriguing enough that I wanted to include it. Made by the company known for stylish Bluetooth earpieces, Jawbone UP performs a lot of the same functionality as some of the products in the rest of this piece. It'll help you track your sleeping and movements, but it'll also help you track what you're eating. Calorie counting apps are nothing new — I even thought about including one here — but this one supposedly will track what you're eating too. If I understand the non-specific press materials, you'll take a picture with your smartphone of what you're eating, and then after you're eating, UP will monitor your physical activity and somehow determine how that food impacted it.
That's a pretty bold claim; even with product pricing and availability not announced yet. I'm intrigued.
Price: TBA
---
About Our Guest Blogger
Alan Danzis is a lifelong technology enthusiast, which is something he inherited from his father. He's an early adopter: he had the first generation Sony TiVo and had to buy a special device just to plug the analog DVR into his digital phone line in college, further showcasing his nerdiness. His fast typing skills is attributed to playing Sierra games as a kid and he currently lives in Hoboken, N.J., where he usually plugs too many things into one outlet. Keep up with him on Twitter @adanzis.
Full Disclosure: Alan Danzis works at Ketchum Public Relations, which is his day job. His opinions here are his own and do not reflect the opinions of Ketchum, nor the clients Ketchum works with. His DVICE writing is wholly unrelated.
For the latest tech stories, follow us on Twitter at @dvice
Copyright DVICE - DVICE