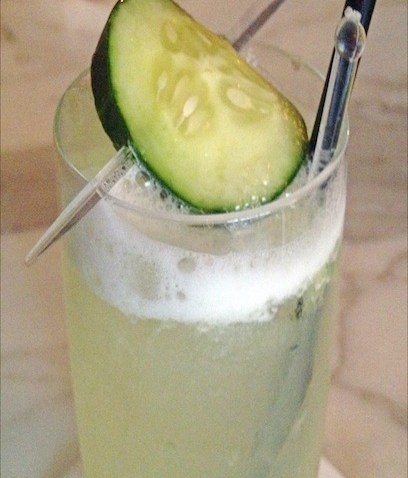 Last week, we had the pleasure of attending a dinner and vodka-pairing at Scott Conant's Scarpetta in Chelsea and it was surely a tasty night.
With three pairings, we were taken from course to course by a variety of cocktails all from the guest of honor, Alchemia Infusions. From Wild Cherry to Alchemia Chocolate, the flavors were not your typical vodka infusions.
The night's favorite pairing was yellowtail with ginger and chili oil, tuna "sushi" with preserved truffles, and the farmer's market salad, all topped off with the Zenzero Frizzante (Alchemia ginger vodka with lemon, lime, ginger beer, and muddled cucumber). It was quite the zinger! Get a taste for yourself and try the recipe below.

Scarpetta's Zenzero Frizzante
1.5oz Alchemia Ginger Vodka
0.75oz Simple Syrup
0.5oz Fresh Lemon Juice
0.5oz Fresh Lime Juice
2oz Ginger Beer
3 Cucumber Slices
Muddle cucumber almost into a puree, add Alchemia Ginger, simple syrup, lemon and lime juice. Add ice and shake vigorously. Strain into a collins glass over fresh ice. Top with 2oz of ginger beer. Garnish with 1 slice of cucumber.
Recipe courtesy of Alchemia Infusions

Copyright LXTVN - LXTV