The body of a San Diego woman reported missing by her family was found buried on a Fontana man's property, authorities said Friday.
The San Bernardino Sheriff's Department confirmed the body to be Alejandra Carrion Gutierrez Friday evening.
Alejandra Carrion Gutierrez, 27, left her San Ysidro apartment at about 10 p.m. on Dec. 30 to meet her boyfriend at his house in Fontana, just west of San Bernardino, her family said Thursday.
On Jan. 10, Gutierrez's beige Mini Cooper was found at the intersection of Foothill Blvd. and Laurel Ave. in Fontana. However, she was nowhere to be found.
Family members reported her missing on January 2, according to the Fontana Police Department.
"We don't know where she is at," said cousin Elvia Toris. "She's never done something like this before. She's never left her kids and not given a phone call. That's why we are very, very worried."
Late Thursday, Fontana police discovered a body buried on the property of an acquaintance on Reseda Avenue in Fontana.
Cesar Rosales, 40, was arrested and booked on charge of homicide.
Officers say a cadaver dog uncovered the body body during a search of Rosales' property.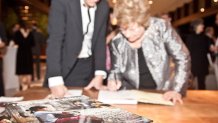 Initially, Fontana Police reported the body was that of the missing woman but they later recanted that information, saying investigators have yet to retrieve the body and do a positive identification.
When interviewed by investigators, Rosales admitted to the homicide and burying the body in his yard, police said.
Anyone with information can contact the Fontana Police Dispatch at (909) 350-7700.