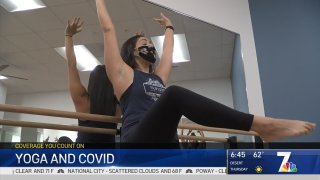 Fitness studios have faced added challenges when it comes to reopening their centers in the midst of a pandemic but many are taking extra precautions to ensure their customers can work out safely.
Namaste Fitness in Otay Ranch Town Center is one of those studios. They offer a range of fitness classes for adults and kids alike, including yoga, sculpt, kids yoga and barre, to name a few.
So it was a big blow when they had to close their doors in mid-March as San Diego County issued a public health order in order to prevent the spread of the novel coronavirus. Fitness centers were among the first businesses to close.
Instructors thought about how they could keep their business afloat without having clients physically in the classes.
Namaste Fitness did what many others are doing right now -- they shifted their focus remotely. The fitness center began offering their classes through Zoom sessions, which were also recorded and put up on their website. For a few months during the shutdown, the studio was offering about nine classes a day.
But when they got the green light to reopen two weeks ago, they shifted their focus back to in-person while keeping classes online for those that were not yet ready to come back to the studio.
For their in-person customers, the studio has instilled a series of safety measures that are maintained throughout the day.
Sanitizers clean for 30 minutes between each class, during which every surface is wiped down.
The studio has markers spaced out on the floor so guests know where to sit and stand during the class while maintaining social distance.
Guests are required to wear a mask when they walk through the front doors. Their temperatures are checked and they are asked a series of common health questions.
Guests are also asked to use sanitizer when they enter.
"The sanitizing is everywhere so our hope is that once they come in, the sanitizer takes care of anything and everything they touch after the doors is touched with clean hands," explained owner, Ana Hutz.
Current guidelines do not require people to wear masks during the classes, but all instructors still do in order to be as safe as possible.