Would-be caped crusaders calling themselves the Xtreme Justice League are taking the safety of one San Diego neighborhood into their own gloved hands.
After a string of violent attacks in North Park, masked men dressed like superheroes have a message for criminals: you're being watched.
But it's not punches this group plans to throw; it's distractions. The citizen patrol hopes to ward off and report attackers among the crowds out and about on weekend nights.
The costumed crime fighters are comprised of students, former service members and security officers going by aliases like Vigilante Spider, Spartan and Freedom Fighter.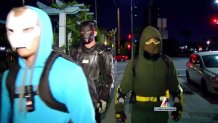 Despite a good deal of criticism and teasing about their colorful costumes – since it's neither Halloween nor Comic-Con weekend – the hopeful vigilantes say their elaborate get-ups help achieve their goal.
"It breaks the momentum of the conflict," said one member who calls himself Midnight Highwayman, "and that's more important than almost anything because now they're focused on me. They're not focused on fighting each other, and it lets us de-escalate the situation, which is always our primary goal."
Saturday night, five members of the Xtreme Justice League scoured North Park's main streets and back alleys for potential threats.
Their mission began in response to attempted sexual assaults and attacks on five women walking alone late at night over the past few months.
The band of pseudo-superheroes believes any community member has the power to stop the assaults, even just by stepping outside and looking out for one another.
"Take a phone with you. Take a flashlight," said Midnight Highwayman. "Keep an eye out down your street, and if two or three people did that on every block, this problem would stop because if people see that people are watching, they're not going to do these things.
The men told NBC 7 what they are doing is extremely fulfilling. San Diego Police officials say they appreciate community members who wish to get involved by being their ears and eyes and reporting suspicious activity.