Jenny Simpson lost her left shoe after being stepped on and ran the last lap of the 1,500-meter race with her bare foot striking the surface.
That's just the way things have been going for the Americans so far at the world championships. Lots of favorites are stumbling.
"I'll get over it," Simpson said Tuesday after an 11th-place finish, two years after taking silver in the event and four years after winning it. "Just got unlucky."
She's not the only one.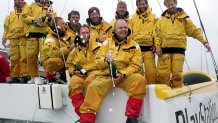 The country that's won five straight overall medal counts at the worlds is in serious trouble nearly halfway through the competition. The Americans have one gold, a silver and four bronze medals. Its total is just ahead of Poland and way behind Kenya, which has nine total medals even after getting shut out of the men's marathon.
One of the red, white and blue's former stars is taking notice. Sprinter Michael Johnson tweeted: "US team need to turn it around quick! Competition management has been atrocious with multiple event favorites failing to advance to final!"
The Bird's Nest has never been all that friendly to the Americans. At the 2008 Beijing Olympics, the team captured 23 medals -- a total that led to a revamping of various aspects of USA Track and Field's operation. It worked; the Americans won 29 medals in London.
They then won 25 medals at the worlds in 2013 but have put themselves well behind that pace with five days to go.
They're faltering in all sorts of ways, besides Simpson's shoe mishap:
Long jumper Jeff Henderson didn't qualify for the final despite entering with the world's top leap this year.
Tori Bowie won bronze in the 100 but was the only U.S. woman to make the final.
Galen Rupp, the 2012 Olympic silver medalist in the 10,000, couldn't hang with the pack at the end, and finished fifth.
Five-time national champion Bershawn Jackson failed to advance out of the first round in the 400 hurdles even though he had the year's top time coming in.
Nick Symmonds, the defending world silver medalist at 800 meters, isn't here because of a dispute over apparel and USATF's deal with Nike.
Even when the Americans do win medals, it's not always quite like they drew it up. In the women's 10,000, Molly Huddle was jogging in for what she thought would be an easy third-place finish but got passed at the line by her sprinting U.S. teammate, Emily Infeld.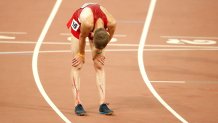 The country's only gold medal came in shot put from Joe Kovacs. But medal contender Christian Cantwell had to withdraw because of back spasms.
"Hopefully, we have a big bang-up last (five) days," Simpson said.
There are lots of chances to make this better. Among the Americans with medal potential: LaShawn Merritt (400), Allyson Felix (400), Justin Gatlin (200), David Oliver (hurdles), Ashton Eaton and Trey Hardee (decathlon), Dawn Harper-Nelson (hurdles), Jenn Suhr (pole vault) and the relays, despite their history of dropping batons.
But so far, the most common feeling for the Americans has been bewilderment.
"There are no words I can say," Henderson said after finishing ninth. "Hard pill to swallow."
Copyright AP - Associated Press