A woman was shot in San Diego's Encanto area early Monday during what investigators described as some sort of a "transaction" gone wrong.
The San Diego Police Department said the woman was shot at around 5:45 a.m. at 61st Street and Aikens Avenue, near Imperial Avenue. Investigators said the woman was shot several times in her arm and once in the stomach during a dispute over a transaction. Further details on the motive behind the shooting were not immediately released by police.
Police said the wounded woman flagged down a blue car and asked for help. She got into that car, which soon stopped four blocks away, at 65th Street and Imperial Avenue, where officers arrived to find the shooting victim.
The woman was taken to Scripps Mercy Hospital and is expected to recover, police said.
Officers shut down traffic along Imperial Avenue in both directions to investigate the shooting. As of 11 a.m., police did not yet have a suspect in custody.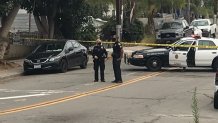 No further details were immediately released.