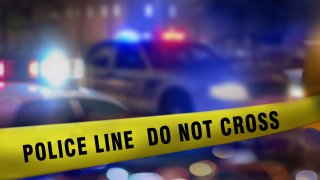 A 57-year-old felon was arrested for weapons-related charges in Ramona after law enforcement responded to the shooting of a woman Monday afternoon.
The San Diego County Sheriff's Department said it received a call at about 4:30 p.m. of a woman who had been shot in the leg in her home on the 2100 block of Walnut Street. There, sheriff's deputies found the woman in the home's front yard suffering from an apparent gunshot.
She initially told law enforcement she was hit by a stray bullet.
Paramedics took the woman to a hospital for treatment of a wound to one of her calves as investigators spoke with neighbors for more information on the case., sheriff's Lt. Mike Krugh said. Neighbors told authorities they heard the woman involved in an argument with a man who left the area shortly after a gunshot was heard in the property.
Sheriff's deputies identified a car associated with the man and made a traffic stop. The driver, who was later identified as John Romeo, was detained for questioning and investigators learned he lives on the same property as the woman. It is unclear what, if any, relationship Romeo and the woman have.
Authorities later learned that Romeo is a convicted felon who was out on bail when they made contact. During the traffic stop, sheriff's deputies found a "usable quantity of narcotics" in his possession and a loaded 9mm handgun in his vehicle.
Although Romeo was arrested for several weapons-related charges, he was not arrested in connection to the woman's shooting.
The woman later refused to cooperate with the investigation and would not tell sheriff's deputies how she was shot. The investigation is ongoing.