A woman was attacked and sexually assaulted Monday moments after she left a restaurant in the East Village neighborhood of San Diego, police said.
Now, investigators have released a sketch of the man they believe was responsible for the attack.
The victim told police she was walking near 14th Street and Island Avenue at around 11:30 p.m.
The staff at Amplified Kitchen and Beer Garden told NBC 7 the woman was at the restaurant and walked along Island to her car. She walked about a block away to an area where she was attacked by a man, believed to be a transient.
Officers say the woman was pulled into some bushes where she was sexually assaulted.
The woman then ran back to the restaurant where someone called the police, the restaurant staff told NBC 7.
The suspect has not been located, police said.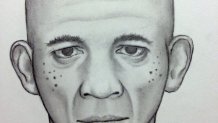 The attack is a cause of concern for people living, working and visiting the area that is home to some of the largest and most expensive housing developments in the city of San Diego.
It's also home to a large and sometimes aggressive transient community.
"Homeless people tend to attack people here so that's very common for me to hear about," said City College student Corinne Gonzalez.
She took precautions and changed all of her classes to morning sessions so she doesn't have to walk in the area after dark.
Desiree Cuicon goes to East Village to exercise and takes extra precautions.
"I feel like I have to go straight to my car, make sure nothing is hanging off me, not too many bags on me," Cuicon said.
Buildings near where the attack occurred have 24-hour security personnel that usually patrol the area.
Investigators describe the suspect as 40 to 50 years old, bald with a thin build, with bad body odor. He was last seen wearing a white shirt, according to SDPD.
The suspect also had a green blanket with him, police said.
He left the victim and ran westbound on 1200 Island Avenue, police said.
Anyone with information on the identity or location of the suspect can call the SDPD's Sex Crimes Unit at (619) 531-2210 or the Crime Stoppers anonymous tip line at (888) 580-8477.