A winter storm lingered over Southern California Monday, bringing light but steady showers across San Diego County and a wintery mix of rain, snow and possible sleet to the region's mountains.
While the storm was bringing gloomy conditions and some scattered showers to most of Southern California, San Diego County was receiving the brunt of the storm due to a low-pressure system hovering offshore, according to NBC 7 Meteorologist Sheena Parveen.
By the day's end, inches of snow were possible in the county's mountains while rain totals could range from a quarter-inch to three-quarters-of-an-inch of rain.
The storm prompted the National Weather Service to issue a winter weather advisory for the mountains until 4 a.m. Tuesday. During this time, travel on mountain roadways could be hazardous. Even a light coating of snow along Interstate 8 in San Diego County could affect travel, weather service warned.
The San Diego County Department of Public Works issued a chain requirement for Palomar Mountain after an inch of snow fell at elevations as low as 4,500 feet overnight, though it was lifted before noon.
A chain requirement also went into effect on Sunrise Highway in Mount Laguna where snow was falling steadily Monday morning, according to the Mount Laguna Lodge webcam.
The majority of snowfall would affect mountain ranges above 5,000 feet. Elevations above 6,000 feet could get more than a half-foot of snow while elevations between 4,000 to 5,000 feet could receive 2 to 4 inches of snow, Parveen said.
Along with the winter weather advisory, a wind advisory is in effect from 9 p.m. Sunday to noon Monday. Northeast winds will average 15 to 25 miles per hour with gusts up to 40 mph during that time, the NWS said.
The storm system sent San Diego's temperatures plunging into the low 60s. Temperatures were forecasted in the 40s for the mountains on Monday.
Along the coast, the San Diego County Department of Environmental Health warned swimmers and surfers to avoid going into the water for 72 hours due to urban runoff. Meanwhile, the shoreline near the Tijuana River was closed due to sewage-contaminated runoff coming from Mexico, an ongoing issue for the South Bay community of Imperial Beach.
Light rain first reached San Diego County early Sunday along the coast, in the valleys and along coastal mountain slopes. A gloomy weather pattern with off-and-on showers continued throughout the day before picking up overnight.
By 8 a.m. Monday -- and with more storm ahead -- more than 1.25 inches of rain was recorded in Point Loma. More than a half-inch of rain was recorded in Mission Beach and areas like Vista, San Marcos, Fallbrook, Poway, Santee and Kearny Mesa saw over a quarter-inch of rain, the NWS reported.
The rain saturated roadways overnight, creating hazardous driving conditions on slick roads during the morning commute.
The rain toppled a tree on Carmel Mountain Road at Rancho Carmel Drive, blocking eastbound lanes as crews chopped up the tree and hauled it from the roadway.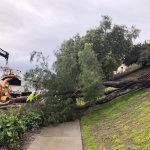 A semi-truck towing two trailers jackknifed on a slick Interstate 15 near I-8 before 4 a.m. The truck temporarily blocked all lanes of traffic before crews could get it onto the shoulder.
Multiple cars crashed on state Route 94 near Euclid Avenue early Monday. No injuries were reported but the crash caused traffic to slow to a crawl for at least an hour.
Water was pooling on roadways early Monday though no emergencies due to flooding had been reported by 6 a.m.
Parveen said the storm system will pull away Tuesday evening and the county will begin to dry out for the rest of the week.