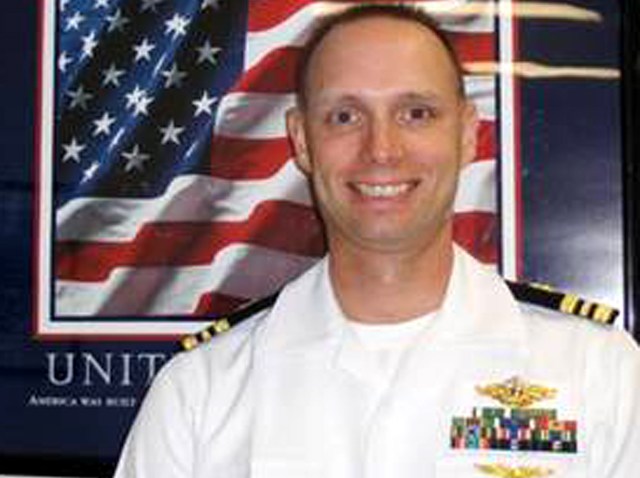 A woman rushed to the hospital from a bloody crime scene has been arrested.
Jennifer Trayers, 42, was arrested Tuesday morning and charged with murdering her husband, according to San Diego police.

Police were sent out to an apartment in the 3700 block of Grim Avenue at about 6:15 a.m. Monday after a concerned supervisor from Balboa Naval Medical Center called to say a man had missed work for two days. Officers determined the house was locked and had to break a window to gain access to the home. Inside, the police found a man inside a bedroom, dead.

On Wednesday, police confirmed the victim was Dr. Frederick Trayers III, 41, and that he had been stabbed to death.

Police also found the physician's wife, Jennifer Trayers, in the same room, suffering from multiple injuries. The seriously injured woman was rushed to the hospital, where she underwent emergency surgery.

On Wednesday, colleagues of the Navy lieutenant commander, who was stationed at the Naval Medical Center San Diego, where he was a chief resident in emergency medicine, issued the following statement:

"He was an accomplished educator and leader in the residency program, as well as an outstanding naval Officer. He was one of the residents you wanted to see on a very busy night shift. He always approached every shift as a learning opportunity and a chance to teach others. He rapidly became one of our best clinical teachers, and he had a great sense of humor -- patients loved him, nurses and corpsmen loved him. Lt. Cmdr. Trayers was someone I saw as being a leader in the future of Navy medicine."

Trayers is scheduled to be arraigned Wednesday afternoon at the hospital where she is receiving treatment for her injuries.