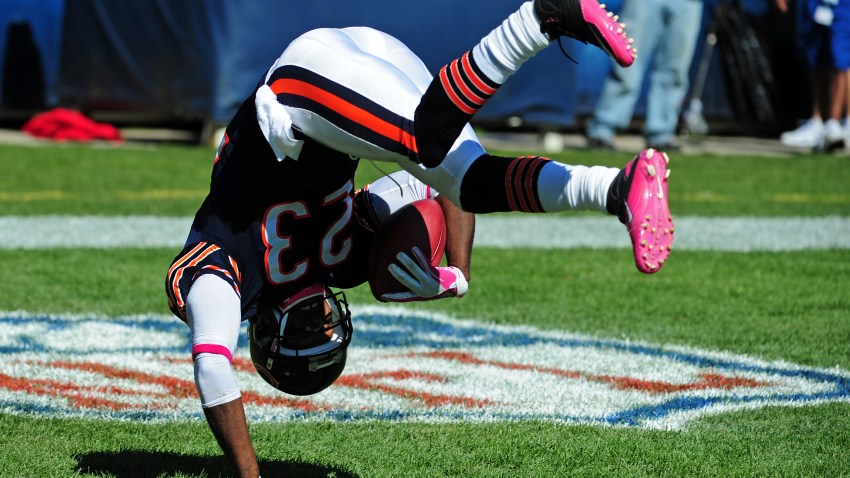 The Chargers have parted ways with two defensive backs already this off-season. Not coincidentally, most mock drafts have the Bolts taking a defensive back in the first round. So much for creativity!

Johnny Patrick, one of the recently departed, was claimed by the New York Jets on Thursday. That means the Bolts only have 4.5 cornerbacks on the roster. Marcus Gilchrist is the half because he was a safety for most of last year, also spending time as the nickel back.

Speaking of safeties, they only have 3.5 (Gilchrist again) of them, and Darrell Stuckey is about to hit free agency. So, it's time to start looking at the waiver wire to see who else might be available, and there's one guy in-particular that is awfully intriguing. And he doesn't even play corner anymore.

He really hasn't since he was drafted a decade ago from the University of Miami, but Devin Hester is a guy who the Chargers need to take a good, long, serious look at.

The Chicago Bears have confirmed they're not re-signing the 3-time Pro Bowler who is the best punt returner in NFL history. He's taken a record 13 of them back for touchdowns, and he ain't too shabby on kickoffs, either! Hester is tied with Deion Sanders for the most return touchdowns ever (19, with five coming on kickoffs and one on a missed field goal).

I have seen this guy in person, and I can tell you with absolute certainty, Devin Hester is a game-changer.

He has the ability to put your offense in good field position, something the Bears inconsistent could never really take advantage of. However, if the Chargers offensive attack was given the kind of head start Hester provides, the Bolts could average better than 30 points a game.

In 2013, San Diego led the NFL in yards gained per drive, but they were just 24th in touchdown-to-field goal differential. Sure, they had plenty of issues inside the Red Zone, and Hester won't help with that (well, not unless he just goes ahead and takes it all the way back for a touchdown, making the Red Zone irrelevant).

The Chargers' average starting drive start was their own 27 yard line. Only 10 teams were worse, and all of them except the Bengals missed the playoffs. Only four NFL teams started at their own 30 yard line or better; the Chiefs, 49ers, Seahawks and Patriots. All of them made the playoffs. One of them won the Super Bowl.
Oh, and another side effect of a more potent return game is, when you have a punter like Mike Scifres, an extra 10 to 15 yards makes a massive difference. If an offensive drive stalls at midfield instead of the Chargers' 35, Scifres can pin the other team inside their 20 and eliminate a return chance, which would help the sometimes porous San Diego defense.

Hester is realistically not going to cost a whole lot. Plus, I would imagine the Florida native would not mind getting back to a warmer climate after nine years in Chicago.

Perhaps the most compelling argument to sign Hester is it would keep Keenan Allen and Danny Woodhead from being return men. Those two are invaluable offensive pieces you don't want to put out there and risk losing to injury.

Hester is a specialist who thrives in those situations. He is your prototypical "game-changer." Sure, the Bolts have more pressing needs at the moment, but you don't get the chance to add a talent like this very often.