A man shot and killed Tuesday in a confrontation with police in Southern California was a Ugandan refugee who friends say came to the U.S. at the age of 12 in search of protection from a regime seeking to kill his entire family.
Alfred Olango, 38, was not acting like himself Tuesday afternoon when his sister called 911 for help. Olango was standing in the parking lot of a shopping center in El Cajon, a community approximately 30 miles east of downtown San Diego. By the police department's account, officers approached him and demanded he remove a hand from his pocket. Olango was shot several times and died later at a nearby hospital.
Images: Alfred Olango
The shooting is under investigation.
Like many police shootings, there is phone video from a nearby drive-through restaurant employee that captured the entire incident. El Cajon Police have released a still from the video. The entire video will be released in the future, according to Chief of Police Jeff Davis.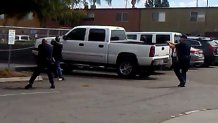 Lucy Peterson, who identified herself as Alfred's sister, said she called police three times because her brother was "mentally perturbed and he needed help."
She said her brother was running around and crossing the street.
"He almost got hit by the car," she told NBC 7.
She said she was tailgating him with her car and wanted the police to get her brother help and possibly take him to the hospital.
"I did not call the officers so they could kill my brother in front of me," Peterson said.
A friend of the family describes Olango as a caring, easy-going individual who often helped others.
Steven Oloya was in a refugee camp with Olango in the 1990s when Olango was about 12. Both families were part of the Acholi tribe from Northern Uganda.
Olango was born in Kampala, Uganda, according to a California report from 2001. He was one of nine children; records show he and his family came to the U.S. because Olango's father, who worked for the former Ugandan president and current president, sought to kill him and the entire family. They came to New York as refugees in 1991.
The family eventually moved to San Diego. As Oloya describes it, Olango often stayed with Oloya's brother in a home along University Avenue in San Diego. He said Olango cared for his brother, cooked for him and took care of him before his death.
In San Diego, Olango's mother worked at Grossmont College in 2010. Olango dropped out of San Diego High School and later obtained a GED. He worked at Toro manufacturing and McDonald's.
Reverend Shane Harris spoke with Olango's brother, who was not named, on his National Radio show Wednesday afternoon. Olango's brother said what people need to know about his brother is what a great father, son and brother he was to those he loved.
"Someone with a heart - a lions heart," his brother said. "He loved too much, you know."
In 2001, Olango got married and had one child with his wife, documents show. The couple separated two years ago.
He said his brother was a family man with two daughters; he said Olango was the glue in the family. Olango loved cooking, he said, and worked as a lead cook in restaurants.
He said Olango aspired to open his own restuarant one day.
"We love each other very much and now we have to live without a key member," he said on Harris' radio show.
Olango had no known history of mental or emotional problems, according to Federal Court documents. However, he has an extensive criminal history.
Most recently, in 2011, he was charged with driving under the influence in 2011. In 2005, Olango was pulled over for a traffic stop while driving a 1990 Chevrolet Caprice. Colorado police said he was uncooperative when they tried to arrest him for carrying a loaded, 9mm semi-automatic pistol.
The same year, he was also charged with driving with a fictitious plate, driving with a license under restraint and driving an unregistered car. Inside the car, Colorado police found 185 grams of marijuana, two Ecstasy pills, a scale, Ziploc bags, $948 in cash and a folding knife.
Those were not Olango's only run-ins with the law.
In 1996, court records show Olango was convicted for taking a person's car without consent, a charge that federal prosecutors added a gang enhancement to once officers found a replica silver automatic handgun on the 17-year-old, along with a pair of fur-lined black gloves and keys to the stolen vehicle.
In 1998, records show Olango was convicted for burglarizing a friend's home; he took audio equipment, CDs and a water bong.
Olango was charged with two DUIs in 1999 and 2000.
In 2001, he pleaded guilty to a felony charge selling crack cocaine.
A lieutenant with the El Cajon Police Department says officers were not at all aware of Olango's criminal history when they arrived on scene.