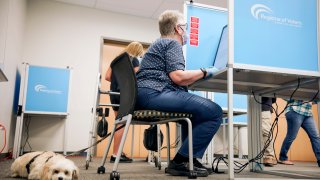 It's two days after Election Day and the tallies for San Diego's local races haven't changed. Where are the rest of San Diego's election results? Don't worry, this is normal. They're coming.
The San Diego County Registrar of Voters said an election results update will be posted to the ROV's website after 5 p.m. Thursday. The first round of numbers was released on Election Night but there hasn't been much action since then.
San Diego County Registrar Michael Vu said this is standard operating procedure as the registrar has been hard at work counting last-minute ballots.
Vu told NBC 7 on Wednesday night that there were still an estimated 376,000 San Diego ballots to be considered and counted. Those ballots need to be verified before they can be counted.
Vu said the registrar of voters had an overnight crew working on that process so they could begin scanning the ballots early Thursday for the next round of results to be released in the evening.
The County of San Diego broke down the process here.
The county said ballots that were left to count in the days after Election Night included mail-in ballots dropped off at polling places and drop-off locations, mail-in ballots postmarked by Election Day but not arriving until later, and provisional ballots from polling places.
After Thursday's fresh batch of numbers is released, the San Diego County Registrar of Voters plans to release similar updates once a day for about a week, through Nov. 13. After that, the rest of the election results will not be released daily.
The registrar has until Dec. 3 to certify the election, and the ROV said it'll likely take that entire time to gather the final results.
On Nov. 3, the San Diego Registrar of Voters was reporting a 64.4% voter turnout locally, with more than 1.2 million mail-in ballots had been returned early and more than 635,000 dropped off at official ballot drop-off locations. As of Nov. 2, more than 85,000 San Diegans had voted early in person across the county's 230+ polling sites.
On Thursday, Vu told NBC 7 the registrar was continuing to receive mail-in ballots postmarked on Nov. 3. In fact, Vu said about 6,000 of those trickled into the registrar on Wednesday and he expected more to come in the coming days.
Vu said around 300 people were working day and night at the ROV to sort through incoming ballots, take them out of envelopes, verify signatures, and feed them into the scanning system.
He said he would be "very happy" if anywhere between 30,000 and 50,000 ballots were included in Thursday evening's update.
But even with Thursday's update, Vu said the ballot counting process is far from over at the ROV.
There will still be more than 300,000 ballots yet to be counted.
Vu said he expects most of San Diego's mail-in ballots to be counted by Monday. Then there's also the approximately 26,000 conditional and provisional ballots that the ROV is aiming to verify and add to the county by sometime next week.
Meanwhile, in terms of the potential for a recount, Vu said anyone can request a recount but it's expensive and whoever requests it must pay for it. The cost depends on how many precincts would have to be reviewed.
Vu said the last recount in San Diego County was in 2014 for the Chula Vista City Council, seat No. 1. In that race, John McCann beat Steve Padilla by two votes – and the recount verified McCann's narrow victory. That recount cost the Democratic Part $58,000.
Vu told NBC 7 he's "extremely happy" at how smoothly election went, considering the entire voting model was changed to work with COVID-era health restrictions.
Earlier this week, the registrar told NBC 7 he's hoping state legislature will continue the COVID-driven model. Vu called the 2020 election process in San Diego County "almost flawless," and gave a lot of credit to voters.
---
NBC 7 will bring you Thursday's updated election results here. Check back after 5 p.m.
And, for details on some of the big local races to watch – including the 50th District and the San Diego Mayoral race – click here.
And, for the latest election results o the U.S. Presidential Race, follow these live updates.
NBC 7 has coverage you count on for the 2020 General Election. Get full Decision 2020 coverage here.