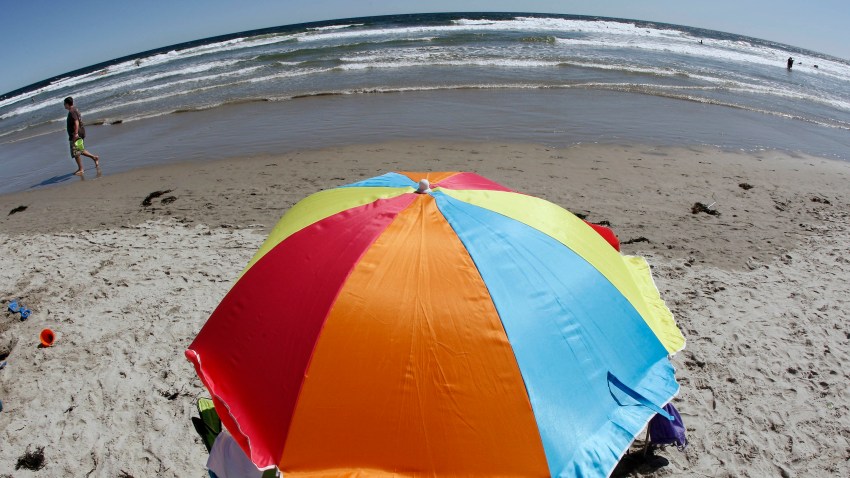 Get out the bathing suit, sunscreen and beach towel because summer will finally arrive in San Diego this weekend. But it might be muggy.
After four days of record breaking "cooler than normal" weather we're actually going to see some sunshine and markedly warmer temperatures beginning on Saturday.
The weekend forecast is calling for much more typical July weather -- morning clouds, sunny afternoons with coastal highs in the 60s and low 70s and valleys and mountains in the 80s.
We have seen little "real" summer weather since the season kicked off on the 21st of June. In fact, it has been one of the mildest, cloudiest starts to summer in recent memory.
On Thursday, for example, the high at Lindbergh Field, topped out at 64 degrees. That tied the all-time record "lowest maximum" temperature for any day in July. The record goes back all the way to 1912.
It's not unusual to see Summer get a slow start at the beaches, we're used to that, but even the valleys have been much cooler than usual, thanks to a stubborn series of low pressure systems that have continually pumped cool marine air off the ocean, all the way into the foothills.
On Thursday, we saw mid and upper 60s in many of the county's usual "hot spots", such as Escondido, El Cajon and Santee.
Friday is transition day as the last of the low-pressure troughs slowly moves off to the north. It's being replaced by high pressure that's actually moving in from the east. It's the same high that brought record heat to much of the east coast earlier this week. The problem is, because of its location, it's also scooping up some monsoonal moisture out of Mexico and Arizona and is pushing it this way.
That will likely produce muggy conditions for much of the county the next few days and possibly even kick-off some thunderstorms in the mountains and deserts. Don't be surprised to see some of those huge, dark, ominous clouds out over the mountains beginning Friday afternoon.
As far as the beaches go, they will still be looking at partly cloudy to mostly sunny skies during the afternoons the next few days with high temperatures ranging from about 65-68.
While that may not be the most ideal beach weather we've ever seen, it will still be an improvement over the cool, cloudy, drizzly stuff we've been suffering through all this past week. Further east, the valleys will edge back into the mid and upper 70s on Friday then back into the 80s come Saturday and remain there through the rest of next week.