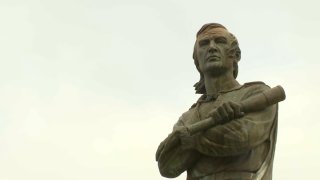 The city of Chula Vista is trying to figure out what to do with the controversial Christopher Columbus statue that has been sitting in storage since the city council voted to permanently remove it from its long-time location in Discovery Park.
A special task force is seeking out statements of interest from museums, historical societies or other organizations that could acquire the statue of the explorer who critics say represents the genocide of indigenous people and supporters say is a representation of history that should be preserved.
An interested group would need to get approval from the full Chula Vista City Council and would need to cover the costs of relocating the statue, according to the draft request for interest (RFI) proposal from the Christopher Columbus and Discovery Park Task Force.
The committee published the final RFI this week and groups will have 60 days -- until Aug. 13 -- to submit their interest, the city said. The task force will then look at every proposal and make a recommendation to the city council.
The statue had stood in Chula Vista's discovery park for 30 years before it was vandalized with red paint on Indigenous People's Day, the city of Chula Vista's recognized holiday, in 2019. The statue was temporarily stored but in Sept. 2021, the city council voted 4-1 in to permanently remove the statue. It has been sitting in storage ever since.
In 2021, two members of the Catholic charitable organization Knights of Columbus said they would buy the statue and put it at the group's headquarters in Fontana, California, as did the San Diego's Sons and Daughters of Italy.
A city spokesperson said the Sons and Daughters of Italy had previously made a presentation for expressing their interest in taking ownership of the statue.
The committee has also been tasked with making a recommendation for what will replace the statue in Discovery Park.
Groups have asked the council to also consider renaming the park under the guidance of the Kumeyaay Native American tribes.