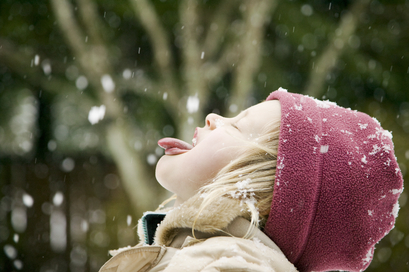 Over a foot of snow has blanketed Mount Laguna and it's begging to be played in.
If you are looking for a way to celebrate the recent stormy weather, all you need to do is head east. Snow fell throughout the week on Mount Laguna in areas as low as 3000 feet above sea level.

The directions are simple: Take Interstate 8 east to Highway 79 and you will start seeing plenty of the fresh white powder. It's about an hour east of downtown San Diego.
If you're planning a visit to the snow you need to be aware of a few things.
You will want to pick up or bring tire chains if you want to get up on the Sunrise Highway or anywhere near the top of Mount Laguna, Mount Cuyamaca or Palomar Mountain. Three cars got stuck in the snow on Friday morning, according to John McWay with the Laguna Mountain Lodge.
You'll also need an "Adventure Permit" if you plan on parking for any length of time to go sledding. Without it, you may end up with a citation and up to a $100 fine. The permits can be purchased at the lodge.
The owners know the mountain, the best places to "legally" go sledding and they have oodles of snow clothing and equipment for sale. Map to the lodge.
If you plan on just "winging it" and figure you'll stop and sled at the first snow-covered hill you see, again, it could end up being a pretty expensive trip. You can get fined without the proper permit.
You can also get fined if you don't park your vehicle completely off the road and are a hindrance to either traffic or snowplows.
You can also get fined if you park on private property without permission. It doesn't matter if other people are doing it. It's not uncommon to see a whole line of vehicles being cited for breaking the law.
Also, be sure you're ready for winter weather and winter-weather-driving. Chains are a must. Make sure your vehicle is up to the trip. Chances are it's not used to freezing weather and you're probably not used to driving in ice and snow.
Extra caution is necessary on all counts.
You'll need extra, dry clothing as well, especially socks, shoes or boots; a fully charged cell phone for emergencies and plenty of trash bags. You can always tell how much snow the mountains get by all the trash found when the snow melts. The rangers ask that you please take out of the park everything you brought.