They're near coffee shops, laundromats, even schools. Many San Diego Massage parlors are offering services far beyond just a massage. And NBC 7 Investigates found a public website describing in graphic terms what is supposedly happening inside these locations.
For $19.99 a month, the website "RubMaps" publishes reviews for massage parlors offering sex services for sale.
Searching the website, NBC 7 Investigates found 243 parlors listed in San Diego County and, according to the reviews on the website, 173 of those parlors offer sex services for a price. Each "review board" includes information on which women provide what sex acts, how much customers tipped the workers and a "candid" explanation of the customer's experience.
RubMaps did not respond to NBC 7 Investigates' requests for comment.
An online company statement maintains that the website is, "wholly committed to raising awareness of the human trafficking issue...In the event we become aware of any incident of trafficking, we take swift internal action and cooperate enthusiastically with state and federal law enforcement officials."
NBC 7 Investigates is providing the general location of the parlors, according to the RubMaps website, but is not releasing specific details on each parlor. Using ArcGis mapping software, NBC 7 Investigates found 16 of the 173 parlors that are allegedly offering sex services for sale are within 1,000 feet of a public school.
To see the map, look below or click here.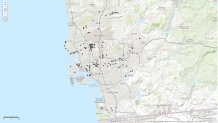 Advocates for the women in these kinds of places say many are too afraid to ask for help, like 27-year-old Yalin Shao from Taiwan.
"They told me it was only [a] massage," Shao said during a taped interview with the Bilateral Safety Corridor Coalition (BSCC). "It's not only a massage."
Shao said she read an advertisement in Mandarin for a massage job promising "high wages" here in California. But what she found was the job consisted of working for tips in exchange for sex.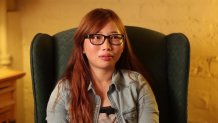 Advocates for victims of sex trafficking say from the moment victims respond to advertisements like the one Shao read, the organizations behind recruiting these victims will often use fraud, force, and coercion to keep them working in the massage parlors.
"They are stuck in this web of control," said Brad Myles, the CEO of the Polaris project. Polaris is a national organization formed with a goal of disrupting human sex trafficking.
In a recently released report, Polaris found an estimated 9,000 "Illicit massage businesses that front for commercial sex operations" are in operation across the country today and foster a "widespread acceptance of selling of women for sex".
"Very little attention is placed on the criminal network that might own that [parlor] location and many other locations," Myles told NBC 7 Investigates.
RubMaps, according to Polaris' report, is the number one massage parlor locator in the country, attracting more than 325,000 unique visitors a month. Polaris says the men involved call it a "hobby" but in reality, it provides buyers, "a sense of community and invincibility that feeds this harmful behavior."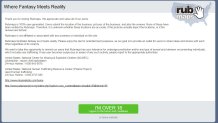 "I was very depressed all the time, I was ready to die," Yalin Shao told advocates.
Yalin Shao said she used to work for a massage parlor in San Diego and provided outcall services to hotels across Southern California.
In July 2013, Shao was arrested by undercover officers for the San Diego Police Department on charges she "agreed to engage in an act of prostitution", according to court records.
Shao spent time in jail and faced prosecution when her public defender, who was familiar with the sex trafficking industry, first notified the Bilateral Safety Corridor Coalition of Shao's situation. The non-profit organization was then able to get Shao out of the criminal justice system and into a shelter and therapy program.
"I want to change my future," Shao told advocates for the BSCC. "I want to be more positive. I want to be successful."
Shao has since returned home to Taiwan but warns the industry she left behind is still operating here in San Diego and the United States.
"As far as the locations I mean you can find them anywhere," said Michael Pritzker, owner of Happy Head Massage. "It doesn't have to be in a bad neighborhood."
Pritzker owns eight massage parlors in San Diego County and says they operate legally, with no sex services being offered. Pritzker is vocal about the need for people to recognize that many of the women in this industry are victims, not prostitutes.
"When they come here, everything is pretty much taken from them," Pritzker said, including the women's travel documents like passports and identification papers. Even their money.
Polaris found often times, the women working for these parlors end up living in the building where the business is run out of. Other than customers, rarely do the women come into contact with anyone else, according to Polaris' study. Polaris found the women are isolated, often don't speak English and are moved to different locations frequently.
"Not only does it serve to provide buyers with 'fresh' faces, it keeps the women disoriented and prevents them from forming bonds with each other," the report said.
"They've created these complex webs of manipulation and deception," Myles told NBC 7 Investigates. "Lies and debt bondage and other ways to keep the women under threat."
Experts and advocates say once victims are recruited, they are charged by the trafficker for expenses to get into the country. This service is a debt the victims must pay off by working in the parlors.
Shao told BSCC Advocates the owners of the parlor she worked for would threaten her, or her family's safety if she ever tried to leave.
"[They threatened to] send a guy to rape me or grab my money or they would break my arm, my legs," Shao said.
"A very large percentage of the women in massage parlors that are trafficking their victims in southern California are from South Korea," Pritzker said, adding that he's seen other victims arrive from China and Thailand.
Polaris confirms that what is happening in San Diego County is a microcosm of what is occurring across the country.
"You will probably see some that are Korean-owned, some that are Chinese-owned and some that might be Vietnamese-owned," Polaris CEO Brad Myles said, the majority being owned by "Chinese criminal networks."
"It's organized crime," Myles said. "Where the workers are frightened witnesses for police investigations and owners hide behind shell companies. Very little attention is placed on the criminal network that might own that location and many other locations."
Prosecutors and police sources have told NBC 7 Investigates that the owners of these parlors are difficult to prosecute because the victims arrested are considered to be "poor witnesses" because they are frightened, confused and come from countries where there is mistrust of law enforcement.
NBC 7 Investigates asked local law enforcement, the San Diego City Attorney and District Attorney's offices if they are specifically looking into Rubmaps. None of the agencies would confirm they are investigating or have investigations using information on the website.
Specifically, a spokesperson for the San Diego Police Department said they take such crimes seriously but, "haven't had any recent complaints about the [web]site, nor have they had any investigations involving the [web]site."
Disclosure: JW August, one of the Producers for this story, volunteers for the Bilateral Safety Corridor Coalition.