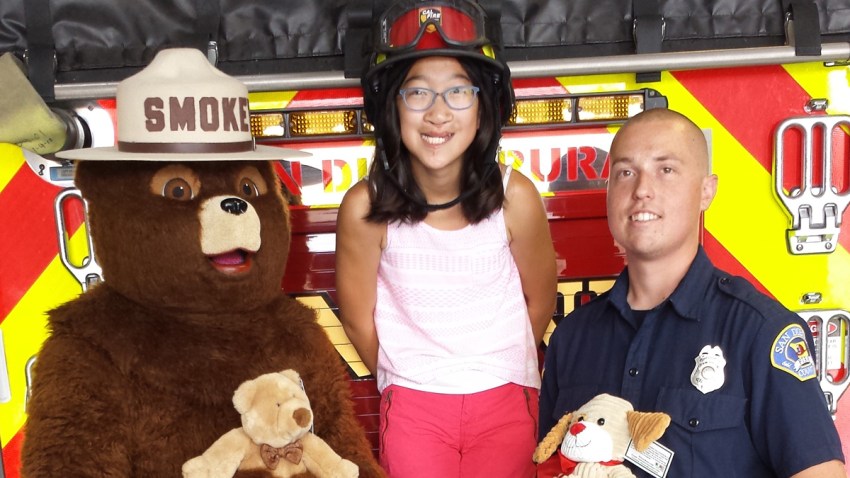 A San Diego girl who runs a nonprofit organization dedicated to helping children made a generous donation Thursday, giving 400 teddy bears to local fire stations.
Jessica Carscadden,12, is the founder of We Care Bears, a project that donates stuffed animals to law enforcement agencies that officials can then give to kids as a source of comfort amid emergency situations.
The young philanthropist's latest donation was given to Cal Fire/San Diego County Fire. The toys were received at the San Diego Rural Fire Protection District in Jamul, much to the appreciation of San Diego County firefighters, including Dylan Dabasinkas.
Dabasinkas told NBC 7 he and his fiancé were recently approached by Jessica and her mother, Kathleen, who told him about the We Care Bears project.
Jessica handed him a business card and said she wanted to give teddy bears to firefighters so they could distribute them to children while responding to emergency calls.
"She's 12 and she's out there giving people her business card, offering to help," said Dabasinkas, praising the young girl's efforts.
The firefighter said he ran the idea up the chain and Cal Fire was happy to receive the toys. The stuffed bears will now be carried on fire engines and ambulances throughout San Diego to be given out by firefighters and paramedics to local kids.
"When the bears are on the apparatus, they will be given out to children in need in any emergency situation," Dabasinskas explained. "A teddy bear can mean the world to that kid. A lot of times, kids are pulled away from their parents and they're in an unfamiliar situation with loud noises. What a bear does is it gives them something to hold on to, something of familiarity and of comfort to them."

"I want every child who is scared, injured or alone to have a bear to hug," Jessica said.

To date, Jessica has donated thousands of stuffed bears to first responders nationwide through her organization.

She has also taken on other pay it forward-type projects, including donating seven new mattresses to firefighters at a North County fire station in August 2014 after she found out the ones they had been sleeping on were worn down.

The girl also stopped by the Rancho Bernardo Fire Station 33 during the San Diego May Firestorm in 2014 to deliver dinner to firefighters as a "thank you" for keeping San Diegans safe.

Jessica, who was born with a cleft pallet and lip, spent the first five years of her life at an orphanage in
China. She was adopted by Bob and Kathleen Carscadden, who quickly realized she wasn't a little girl who worried about herself as much as she worried about others.

"She was fully Jessica when we got her at 5, and I wish we could take some credit for her amazing personality and giving spirit, but that is just Jessica," her mother, Kathleen, told NBC 7 last August.

Jessica maintains a blog on her We Care Bears website where she writes about her latest projects. Her nonprofit organization accepts donations, so if you'd like to help, click here.