The U.S. Navy petty officer convicted of driving a pickup truck off of the Coronado Bay Bridge into a crowded park apologized to the families of the four people killed in the tragic 2016 crash before learning his sentence.
"I don't know why I survived," Richard Anthony Sepolio said of the crash. "I wish I could trade places with them."
Jurors convicted Sepolio of vehicular manslaughter while intoxicated and driving under the influence causing injury. On Thursday, the judge denied probation and sentenced him to more than 9 years behind bars with credit for time served.
Cruz Elias Contreras, 52; AnnaMarie Contreras, 50; Andre Christopher Banks, 49 and Francine Denise Jimenez, 46 died as a result of the collision.
Family members and close friends of both the victims and the defendant addressed the courtroom over the course of four hours.
After all of the victim impact statements were read, Sepolio stood and turned to those in the court.
He was wearing his official U.S. Navy uniform which several victims' family members found offensive and disrespectful.
He spoke quietly but looked directly at the families of the people he killed that day on Oct. 15, 2016.
"I see them daily, staring at me from the autopsy table," he said.
"I hope you can find it in your heart to forgive me."
Earlier, Liz Gutierres, sister-in-law of Andre Christopher Banks, told the judge her 9-year-old daughter has lost a godfather who sent her text messages every day.
"My pain, my grief is not for me. It's for what he took from my child," she said through tears.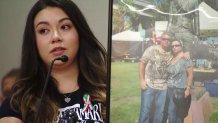 Mia Contreras, 23, the youngest daughter of AnnaMarie and Cruz Contreras, feels like a shell of a person with nothing to look forward to in her life because she lost both parents.
She asked for the maximum sentence behind bars for the defendant.
"I'm just trying to do my best to make them proud," Contreras said. "I have to parent myself because both of my parents were taken by someone so careless."
Mia's sister, Milinda Oberly, also spoke, describing how her oldest son continues to ask when his grandparents are coming. Her daughter and youngest son will never know them, she said.
Speaking to the defendant she said, "You're a senseless kid who stole four innocent lives."
To the judge, Oberly said, "Nine years is nothing."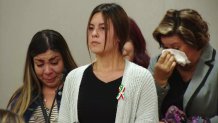 The daughter of Francine Denise Jimenez who was 15 when her mother was killed told the judge it was difficult to put into words how the tragedy has affected her family.
"The random trips to the beach are what I miss the most," she said. "My mom was the light of my life and there are so many days that I wake up and I just want to tell her good morning or wish her a good day at work."
"The saddest thing is, I don't even remember my mom's voice."
The defendant's mother Blanca Sepolio stood up in court and said she was proud of her son.
"This was an accident. An accident that could've happened to anyone here in this courtroom," she said.
"He's not a life taker, she told the court, "He's a life saver."
A church deacon travelled from Texas to stand in support of Sepolio.
"I know what he was and I know what he can be," the man said. "One mistake but my God is a God of second chance."
The defendant's U.S. Navy supervisor of four years told the judge that Sepolio took pride in his work, trained his co-workers and left a lasting impression on others.
"He has made me a better person by being a part of our work center and the job that we had," she said.
Defense attorney Paul Pfingst asked the court to impose probation citing his client's service in the U.S. Navy, the jail time Sepolio has already served, and the absence of malice in the crime.
"From the beginning everyone has understood the travesty of this event. No one at this table or in this court room is inhuman.
"The court is required to separate those who are aggravated in their past, who have high blood alcohol level, who do not cooperate with law enforcement, who do those things and separate those from the people who do. That is part of justice," Pfingst said.
Judge Charles Rogers ordered Sepolio to serve 9 years, 9 months and rejected the request for probation.
"If the consequences in this case were not so devastating, there would not be a better candidate than this man," Rogers said.
"I find this young man's expressions of remorse to be genuine," he said.
Prosecutors allege Sepolio was driving
81 miles per hour
four seconds before his car left the bridge and crashed 60 feet below into a crowded Chicano Park.
[G] 4 Killed, Several Injured After Truck Flies Off Coronado Bridge Into Park
When the verdict was read, prosecutors said the defendant faced a maximum of 18 years behind bars.
At a later hearing, Judge Rogers dismissed great bodily injury allegations that the jury found true which lowered the maximum prison term to 9 years, 8 months.
Also, Sepolio will earn half of credit for time served because the vehicular manslaughter with intoxication is not considered a violent felony, according to the San Diego County District Attorney's Office.