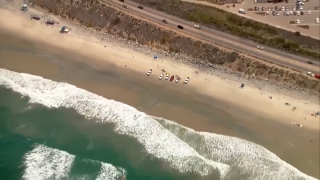 Lifeguards called off a search for a swimmer thought to be missing off Torrey Pines State Beach Tuesday afternoon.
A lifeguard reported a swimmer in distress at around 11:40 a.m. near towers five and six, according to the Coast Guard.
The USCG, San Diego Lifeguards, Del Mar Lifeguards and the San Diego Fire-Rescue Department spent about an hour searching by water and air for the swimmer but found nothing.
"Upon further investigation, it was determined that this was an unconfirmed report of someone last seen in the water. We terminated the search and rescue efforts at 2:22 p.m.," a spokesperson for the California Department of Parks and Recreation said.
Another swimmer went missing off Mission Beach two weeks ago and is presumed dead. Authorities believe recent Crawford High School graduate Woodlain Zachee-Prudhome got caught in a rip current and drowned June 14. His body has not been recovered.