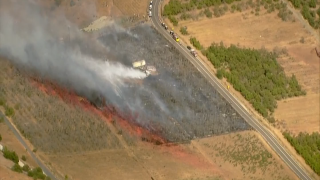 Firefighters are battling a blaze that broke out Wednesday afternoon in East County.
The so-called Highland Fire in San Pasqual Valley was first reported shortly before 4 p.m. just west of Ramona near the intersection of Highland Valley and Wyneland roads.
The fast-moving fire burned 5 acres, according to Cal Fire public information officer Thomas Shoots, but ground crews and firefighting aircraft soon stopped its forward progress.
Although there had been a threat to nearby structures, according to Shoots, by 5 p.m., firefighters appeared to have gained the upper hand on the blaze.