San Diego Fire-Rescue Department responded to a warehouse fire in Barrio Logan Thursday evening that neighbors say may have started from people living inside the vacant building.
Crews responded to the fire in an abandoned commercial laundry warehouse on the 3500 block of Dalbergia Street in Barrio Logan around 9:50 p.m.
"We opened it up and flames started coming from the roof, so we went into a defensive strategy," SDFD Deputy Chief Stephen Wright said.
Earlier in October, there were two other fires in the abandoned building, according to SDFD spokesperson Monica Muñoz. A large fire on Oct. 25 caused an estimated $25,000 in damages to the building's contents and investigators believe it was started by homeless people living in the building, she added.
A neighbor told NBC 7 he witnessed a homeless man running out of the warehouse moments before the building erupted in flames on Thursday.
The man believes the fire, like two others, were started by people trying to stay warm in the cold.
"Uh, it was raining a lot these last couple days, and it's like, 'where are they gonna go, ya know.'" Mick Ruiz from Turn Key Scaffold, a business across the street said. "So I think they're just looking for areas that are weak, and this is one of them, cuz a lot of people know it's just been vacant there."
The fire was mostly knocked down by 11 p.m., Wright said, but crews were still working on all the fire spots inside. The next morning, two engines remained at the scene to monitor for any flare-ups.
At least 80 personnel were assigned to the fire including a fire investigator, according to SDFD. The cause of the fire remains under investigation.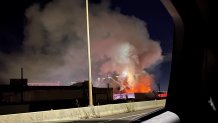 No one was injured and no other buildings were threatened in the fire, Wright added.
Chula Vista, National City and Coronado Fire Departments also responded to the fire.
No other information was available.