Business owners and artists are joining forces to bring positive, colorful change to San Diego's Paradise Hills area by turning street graffiti into murals.
Jayrell Ringpis and Dianne Manansala are the owners of Snoice SD, a dessert shop that specializes in Filipino and Taiwanese- inspired ice desserts like shaved snow, halo-halo and boba drinks.
The couple's shop is located at 8423 Paradise Valley Rd., in the heart of a long road often vandalized with street gang graffiti.
The couple, along with their friends, often spend hours cleaning up the graffiti in the area, only to find it pop up again.
"It's definitely been frustrating," Dianne told NBC 7. "Paradise Hills, I think, has so much potential."
Frustrated, they've come up with another way to combat the tagging: replacing the graffiti with art. The business owners have started creating murals over the graffiti. They hope the vibrant street art helps change the perception of Paradise Hills.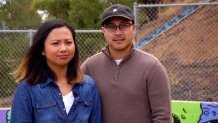 "I want it to be seen as a place that's not a rough part of San Diego," Manansala explained. "A lot of really good talent and good people come out of this place, and I think it's just masked by all of the negative news that comes out of it."
"I just want the people of Paradise Hills to be proud," Ringpis added.
In addition to the murals volunteers in the neighborhood have asked San Diego Gas & Electric and AT&T for permission to transform utility boxes in to community art pieces. The plan is to also paint those.
The business owners said there is no shortage of talent in the area, too.
"Tagging hides the talent and greatness that can come out of Paradise Hills," said Manansala. "These people [volunteers] are here for the sole purpose of beautifying the space rather than trying to vandalize."