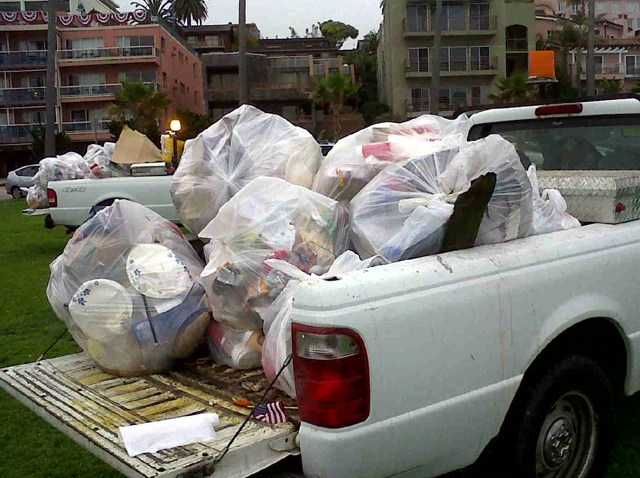 It's clean up time at La Jolla Cove.
Monday morning, several volunteers were ready to throw out any trash that was left over from Sunday's 4th of July celebration. From picking up cans left along the cove, to paddling out in the ocean to clear out fireworks debris. More than 20,000 people came out to see the show, but it's estimated that close to 100,000 enjoyed those fireworks from their own home.
"It's just an amazing, safe place for families," said Jessica Uhrig, a mother of two toddlers. " If you come down here and it's wonderful."
The sun never really came out, but that didn't stop tens of thousands of people from enjoying a controversial 4th of July fireworks show in La Jolla Cove.
For Jessica the show in La Jolla is more than a celebration-it's a tradition.

"You have to get here early for a good spot," laughs Jessica. "I got here at 3:30 in the morning. I rented a small U-Haul truck to bring all the stuff. I don't mind it. My grandparents did it, my parents did it and now it's my turn."
Poway resident, Dan Torres agrees. He arrived to the Cove at around 4 a.m. on Sunday to get the right spot.
"If you want to enjoy the 4th have to get here early with the family, " says Torres as he flips meat from his barbecue grill. " [You have to] set your site and with the cove everybody has a family atmosphere so we love it."
Out of the thousands of people who enjoyed the show, Debora Marengo probably felt the biggest relief. As a member of the La Jolla Fireworks Foundation, she helped organize the spectacle. Up until a few days ago, the show could have been canceled because of a lawsuit filled by the Coastal Environmental Rights Foundation based in Encinitas.
"We were a little nervous last week going to court, thinking that the show might be shut down after 25 years," recalls Marengo. "It was a sigh of relief when we heard the judge issue in our favor."
The lawsuit was filled against the City of San Diego and the La Jolla Fireworks Foundation.
The environmental group argued the debris left from the fireworks show has a negative impact on the ocean and its marine life. Furthermore, the lawsuit called out the city for not taking on sufficient studies on just how much impact the show has on the environment.
On Wednesday, a judge denied a temporary suspension, and gave the show the green light.

"Threatening the La Jolla show and taking away its permit would have caused all the other permits to be canceled," said Marengo. "The same criteria is used, so you can't just deny one and not others."
The lawsuit is still pending. The result could affect future firework shows in San Diego.