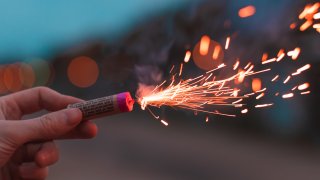 A 14-year-old in Vista was hospitalized with injuries to his face and hand after a firework exploded while he was holding it Wednesday night, according to the San Diego County Sheriff's Department.
The firework exploded in the teenage boy's hand on N. Santa Fe Avenue just before 7 p.m., an SDSO Lieutenant said. The teen was flown to UC San Diego Medical Center with serious but non-life-threatening injuries.
There were several witnesses, according to the SDSO, but no additional injuries were reported.
"Incidents like the one in Vista are a reminder of how dangerous fireworks can be," an SDSO spokesperson said. "Never allow young children to play with or ignite fireworks, including sparklers. Leave it to the professionals."
The Sheriff's Department bomb/arson unit is investigating the incident and had no further information.
Fireworks are illegal in San Diego County, San Diego firefighters said at a press conference where they highlighted the dangers of the explosives prior to the Fourth of July holiday.
The San Diego County Sheriff's Department said anyone found using, possessing or transporting fireworks could be fined up to $50,000 and sent to prison or jail for up to a year.
It was unclear if anyone would be facing charges in the Vista fireworks incident.