Two buddies came face-to-face with terror Tuesday when a car pulled up alongside them as they drove on state Route 94 and opened fire. After the driver took two bullets, his co-pilot jumped behind the wheel and rushed him to the hospital.
"I thought I was going to get hit," Jesus, the passenger, told NBC 7 in an exclusive interview. "I saw the barrel of that thing and I didn't think he was going to do it, but he did. 'Bap! Bap! Bap!'"
Jesus said he was riding shotgun with his friend Roberto when an unfamiliar car pulled up next to them on westbound state Route 94. San Diego police and CHP responded to reports of gunfire on the freeway between Massachusetts Avenue and Federal Boulevard at about 4:30 p.m.
"I'm still in shock. Like, I couldn't believe this thing happened so quick like that," Jesus said, still reeling from his and his buddy's brush with death.
Jesus told police and NBC 7 the mystery car was a white Kia Forte. It pulled up along the driver's side and a passenger pointed a gun at Jesus and Roberto. Before they knew it, bullets were being fired in their direction.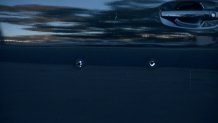 Roberto took two bullets, one to the hip and another to the leg. CHP Officer Jim Bettencourt said the friends' black Toyota Venza had two bullet holes in it. Jesus remembers a third shot breaking the rear window on the driver's side.
"It was a high caliber and just shot at us," Jesus recounted. "It was so loud. Just like, 'Boom! Boom!' It just scared me. I was like 'Wooaah,' just tucked in."
Roberto remained alert enough to pull his SUV to the side of the road. Fearing what could happen to his friend before medics arrived, Jesus quickly switched seats with his pal and sped off toward UC San Diego Medical Center in Hillcrest. A half-dozen SDPD and CHP officers were right behind them.
Roberto, 36, is expected to survive his injuries, according to the CHP. Investigators haven't discovered why Jesus and Roberto were shot at by who they say are complete strangers.
"It was just random," Jesus said. "I don't know the guy or nothing. I don't think he knows us either. Maybe confusion or something."
The friends had just eaten at a Lemon Grove restaurant after a hike at Cowles Mountain. Jesus said he saw three people in the Kia, but it was the driver who pulled the trigger.
"He went across the guy, the passenger, and shot at us. 'Boom! Boom! Boom!'" Jesus said.
CHP investigators are asking the public for tips that will lead them to the men in the white Kia Forte. Jesus said he couldn't get a read on the Kia's plate before it sped off.
The CHP is asking any witnesses to call the Border Division Investigations Unit at (858) 650-3620 or (619) 302-4485.
A portion of SR-94 just north of Lemon Grove was shut down as police investigated.
Traffic quickly backed up in the area, spreading to southbound lanes of State Route 125, which had brake lights flashing nearly all the way to Interstate 8. All westbound lanes of SR-94 were reopened at around 8 p.m, according to Caltrans.