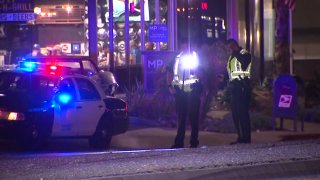 Police were looking for several drivers who took off after hitting a pedestrian on a street in Clairemont on Jan. 22.
San Diego Police Department officers responded at around 7:26 p.m. to the 5000 block of Clairemont Mesa Boulevard after multiple vehicles hit a pedestrian.
Shane Edward Moore, 44, was hit and killed, then run over by two other cars. All three continued driving, SDPD said. It was unclear whether the drivers realized what they had hit after the first vehicle's collision.
Another driver noticed what he thought was "garbage in the middle of the street," police said, and then watched an SUV drive over it. That SUV pulled over and called 911.
Moore was found dead at the scene, according to police who also said he was "living an apparent transient lifestyle."
Witness Nickolas Brown said that the victim was his coworker and friend of 15 years. The victim left for a quick trip to the store and was hit moments later. That's when Brown rushed outside.
"I saw a car run over what appeared to be a body and take off," witness Nickolas Brown said. "But when I got there, I recognized what he was wearing and everything else. I knew it was him."
A white vehicle fled in an unknown direction, according to police.
Brown described the victim as a friend who was always there to help.
"Emotionally distraught. Very destroyed. I don't know how my friends, my coworkers, who loved him very dearly are going to take to this," Brown said.
San Diego Fire-Rescue also responded to the scene.