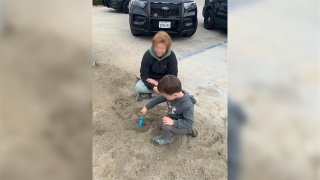 A missing 3-year old, from Tennessee, and his teen cousin were found safe in Southern California after Amber alert was issued Tuesday.
Deputies found the 3-year-old and his cousin Thursday morning in Dana Point, south of Los Angeles, the Orange County Sheriff's Department said on Twitter.
The OC Sheriff's Department said a concerned resident reported seeing a child matching the 3-year-old's description as she was driving her child to school and called law enforcement.
"You just have to trust your instinct and your gut when you see these things because I almost did not act upon it," said Julia, a resident of Dana Point who located the child and teenager. "I have children of my own and I would want somebody to do the same."
Investigating deputies went out to the scene and took Jacob Clare, the child's father, into custody as a result of a warrant issued by the Tennessee Bureau of Investigation for aggravated kidnapping, Orange County Sheriff Don Barnes said at a Thursday afternoon news conference.
Both the 3 -year-old and his cousin will be reunited with family.
The Tennessee Bureau of Investigation tweeted out a photo on Thursday of the 3-year-old playing in the sand with a shovel while chatting with his cousin and what appear to be law-enforcement vehicles in the background.
The 3-year-old was reported missing by his mother on Nov. 7 after Jacob Clare didn't return the child to her home in Gallatin, Tennessee, roughly 30 miles north of Nashville, at the end of a scheduled visitation, the Nashville Tennessean reported.
Tuesday morning, the Tennessee Bureau of Investigation tweeted updated information regarding the case and included that an upgraded charge of aggravated kidnapping was being filed against Jacob.
Also included in the new information was that the vehicle had been driving this past week through Arizona and that it had been located in San Clemente.
The CHP on Tuesday also issued an Endangered Missing Advisory on behalf of the Tennessee Bureau of Investigation for Ventura, Los Angeles, Orange, San Diego and San Bernardino Counties.
The CHP advisory also included information that the 16-year-old cousin, Jacob's niece, was believed to be with Jacob and his son.
The 16-year-old was initially reported as a runaway juvenile from her family home in Beaver Dam, Kentucky, on Nov. 5, 2021, according to an officer with the Beaver Dam Police Department. However, after "new information has been uncovered in the investigation, she has since been listed as a missing endangered child, and is believed to have been kidnapped by her uncle, Jacob Clare," the officer told NBC 7.
During the search for him, Jacob was believed to be armed and dangerous, according to the CHP. No weapon was immediately found but detectives were still going through his possessions, Barnes said.